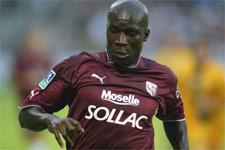 Metz are fighting for their Ligue 1 survival. Their midweek draw against Nancy, 0-0 (rescheduled match) put the breaks on their late charge and they are still five points from Troyes who are the first side in safety.
Four wins in 20 matches, 11 draws and 14 defeats; 21 goals scored and 44 conceded. Away from home Metz are the only Ligue 1 club yet to register an away win: Seven draws (Nantes 0-0, Nancy 0-0, Lens 0-0, Troyes 0-0, Sochaux 1-1, Bordeaux 3-3, Auxerre 1-1); eight losses (PSG 4-1, ASSE 2-0, OM 3-1, Monaco 3-0, Rennes 2-1, Le Mans 2-0, Strasbourg 2-1, Lille 3-1). 11 goals scored away from the Stade Saint-Symphorien and 27 conceded.

Tum and Proment have scored three goals apiece; Borbiconi, Renouard, Ahn, Gueye and own goals, 2; N'Diaye, Djiba, Contout, Youla and Obraniak, 1. All 21 goals scored by Metz have come from inside the penalty area; four headers; one penalty (Toulouse); 3 resulting from free-kicks; 5 from corners; 3 from crosses; 2 own goals.

44 goals conceded incuding 39 from inside the penalty area; 11 headers; 19 from crosses; 5 from corners; 3 from free-kicks… A massive 27 goals have come from the flanks! 3 direct free-kicks (Monaco x 2…); 2 penalties (Strasbourg and Auxerre).

58 yellow cards: Meniri 7, Huszti 6, Proment 5, Ouaddah 5, Obraniak 4… 5 red cards: Meniri 2, Obraniak, Proment and Medjani 1.

34 players used (the most in L1); Borbiconi has played every minute of every match. He is the only outfield player to have done so in L1 this season.

Saturday's game will be the 38th meeting in L1 between the two sodes at the Stade Gerland. OL have won the last three in a row.