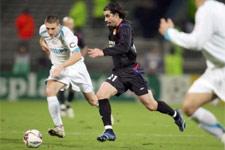 Tiago talks about Wednesday's match, his own performance and what he hopes for from the draw…
Tiago talks about Wednesday's match, his own performance and what he hopes for from the draw… Can you tell us how you feel about last night?
It was a great evening in which we reached the quarter-finals after playing a really quality match. There were several reasons to be happy: we reached the quarters, and we celebrated the birth of Fred's little girl. I can't explain how happy I was when Fred scored. It was a goal to lift an entire stadium. He really deserved it. He showed a great professionalism and I admire that. He was a Dad for just a few hours and he was still able to play – I can only take my hat off to him.
I didn't think it was going to be so easy to beat PSV. Winning over there made it a lot easier. The key was just how much we all wanted it. We started very strong and we didn't once let them think they could get back into it. That meant we never had any doubts.
Lyon are in the quarter-finals and Chelsea are eliminated, that means I made the right choice in signing for Lyon. Chelsea won't be there, but I'll be playing in the quarter-finals, so I'm delighted. The Champions League is the dream of every player so of course I'm ecstatic with the choice I made.

Can you talk to us about your personal performance?
I twas probably my best match for Lyon with two goals and an assist. While the most important thing was to qualify, I'm of course delighted to have got two goals in the Champions League. It's even better that I got them in the same match. Between my double and Fred's goal we're over the moon.
In the second half I tried to conserve myself in the knowledge that a yellow card would see me suspended. I did that telling myself that with Juninho suspended, OL couldn't afford to lose a second midfielder.
It was a fantastic and unforgettable night. I'll remember it forever, especially the fans ovation.

What about the rest of the competition, can OL go all the way?
For the moment everything is looking good, but the draw will have a big say on what happens next. There some very big teams left and I think it would be best to avoid Barcelona at the moment because they seem in very good form. I've got a little preference for Benfica because I played for them and loved that team. But they're also a club I would love to see in the semis. We have to stay humble and calm and get passed the quarters. We've just got to take things as they come.