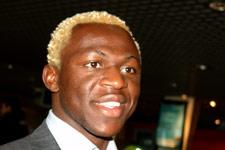 Aruna Koné

How was you trip?

It was fine, shorter than I thought it would be.
Have you arrived carrying big ambitions?
Yes, absolutely. We're here to have a good game, to win and qualify for the quarter-finals.

What conclusions did you draw from the first match?
We weren't able to make the most of the chances we created. Tomorrow it will be imperative that we bury any chances that come our way.

What chances do you give yourselves of qualifying?
I don't know, but even it was just one percent then we'd play it to the maximum right until the last minute. In a match of football, anything can happen.

Without revealing you game plan, are you planning on attacking or sitting back?
We won't be waiting. We lost the first match so we'll be going all out to attack.

What are this Lyon team's strengths?
We're worried about their organisation. They're very well drilled. And they can also score thanks to Juninho's free-kicks. Tomorrow will be a good match.


Timmy Simons

What's the spirit like as you arrive in Lyon?
We're in very good spirits. The atmosphere in the team is really good. We've every chance of qualifying tomorrow.

Will you see how the match goes or attack from the outset to qualify?
We need to find the right balance between attack and defence without forgetting that we have an obligation to score.

[IMG40219#L] What percentage do you give yourselves of qualifying?
Between and 40 and 50%. What's for sure is that it's going to be very tough. We need to play well but if each and every player plays very well then we should win.

You saw with their defeat against Rennes that Lyon are not unbeatable. Did you see that match?
Not yet, but we'll be watching it tonight. At any rate, it will be very difficult.