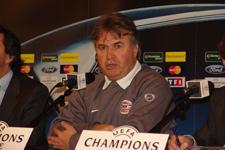 During the traditional pre-match press conference, Guus Hiddink first of all gave his impressions of tomorrow's game before fielding questions from journalists...
"I find myself in the same situation as last year. It wasn't easy then in terms of the play or the score. We saw two very tight games that ended in penalties. Here we had two chances to score and Philip Cocu put one of them away. Last year the tie finished in two draws but this year a draw would be a huge surprise.
Lyon team is even stringer than it was last season. We have a very tough task. If we create an opening we simply have to score, 100%. We have to give them very little space. To do that we have to stay totally focused throughout. I'm sure we can do it and survive.
As for the injured players, we'll see in training who can't play tomorrow. The main concerns are Reiziger, whose hand is in plaster and also Vennegoor of Hesselink and Lamey."

What risks are you prepared to take with these players?
It all depends on how they train. We mustn't take risks which could affect the rest of the season, so we have two options. We can either start them and take them off as the game goes on, or we can sit them on the bench and bring them on during the match.

Do you think you can reproduce your performance from last year?
That would be pretty good. A draw would be a very good result for us, but obviously I'm looking for a little bit more. It will be tough. Lyon want to play the Champions League final in Paris.

Lyon lost 4-1 to Rennes after the first game against PSV. Have you analysed that match and what conclusions did you draw?
I'm not going to go into details, but when you look over the course of an entire season, every team has a couple of accidents like that.
To not panic after such a result is the sign of a big team. What's important is not to suffer from another accident the next week. And that's what happened as Lyon won their next game.

[IMG40220#L]Do you have the same confidence in you 'keeper that you had last year? You seem to have had more problems this season…
Gomes can still improve. He has made one or two little errors. He knows it and is his harshest critic, perhaps too harsh sometimes. When he concedes a goal to a perfect shot he's not happy.
Tomorrow, everyone will be in top form.

Do you think Lyon is stronger this year than last?
They lost Michael Essien but they bought Tiago. If anything their respect for discipline seems even more impressive than last year.

Who do you think will play up front, Carew or Fred?
They are two very different strikers but both very dangerous. But I can't tell you which one will be starting tomorrow evening.

If you don't qualify tomorrow, will you still be happy with your European campaign?
That's a question you'll have to ask me tomorrow, but I hope you won't need to.