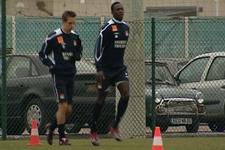 The big news after OL and PSV final training? All those 'doubtful' players trained normally ahead of tomorrow's Champions League clash.
The new faces in the Lyon squad for this last 16 return clash, Grégory Bettiol and Romain Beynié, both received the praise of their professional colleagues after training.
Like always before a Champions League clash, only the first 15 minutes were open to the media. It was enough time to see John Carew effectuate the group exercises without any apparent discomfort. There was also good news concerning the back of Mahamadou Diarra, who pulled out just before kick-off against Ajaccio. Tiago was also there.
After a lap of the field the players began training with some aerial passing before physical work under the orders of Robert Duverne. After a series of sprints and stretching the session ended behind closed doors.

As for PSV, their training took place at the Stade Gerland. The session began with a long jog before some accelerations in front of around 100 Dutch fans. Aware of his current form slump, Guus Hiddink ensured a long shooting session for his 'keeper Gomes.
Then a team of 'starters' took on a team of 'subs'. Simons played alongside Alex in the centre of defence.
'Starters': Gomes, Alex, Simons, Reiziger, Lucius, Cocu, Culina, Farfan, Vennegoor of Hesselink, Koné.
[IMG40222#L] This training also removed any doubt hanging over a number of players. Clearly not suffering from anything, Vennegoor of Hesselink took part in the entire training without showing any problems at all. The same goes for the other Dutch doubt, Reiziger. With his hand strapped, he had no problem in the left full-back position. However, Lamey's possible participation in the centre of the defence seems less sure. The defender quit training after just ten minutes, accompanied by a club doctor.