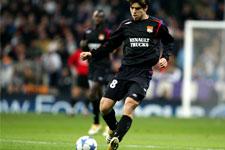 The footage did the tour of the world... so far out was his shot at the Stade François-Coty. It undoubtedly beat his record in the endeavour.
Juninho was at it again this weekend with a sumptuous free-kick against Ajaccio. Obviously Porato, the Ajaccio 'keeper, is the preferred victim in this exercise. If we take the free-kick he scored against the Corsicans this season at the Stade Gerland he has beaten him three times in their last three meetings!

This latest free-kick can be added to the 25… in other words, his 26th. They correspond to 22 Lyon wins and two draws. Nine have been scored away; 17 at Gerland. On 16 occasions he has opened the scoring for OL of which three ended 1-0, three were equalisers and once he reclaimed the lead.

One free-kick in 2001-02; five in 2002-03; five in 2003-04; eight in 2004-05; and 7 in 2005-06.

Since his arrival at Lyon, only four other players have scored free-kicks for OL: Violeau v Auxerre; Delmotte v Troyes; Edmilson v Sochaux and Essien v Toulouse. The latter's was the only free-kick scored from inside the penalty area. Edmilson and Essien both scored while Juninho was on the field.

Juninho is not only an incredible free-kick taker, but also a passer without peer. He has delivered 25 assists thanks to his perfect passes which resulted in 18 wins, five draws and only two defeats (Monaco and Sedan).

Juni the goalscorer has scored 62 goals for OL. His goals have been accompanied by 44 wins, five draws and two losses (Lille in 2004-05 and recently against Rennes). Twice he has scored hat-tricks (v Auxerre and Lens); 7 doubles (Nice, Celtic, ASSE, Toulouse, Rennes, Sedan and Ajaccio).

Juninho has also scored eight penalties. He therefore has 34 goals from dead-ball situations out of 62!