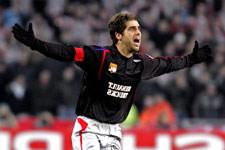 Is the pressure building?

No. Of course we can describe this as the biggest game of the season, but the pressure has been there since the beginning of the campaign.
Thanks to our win in the first game we're really confident. They will be doing everything to beat us but I'm convinced we'll play some good football and qualify. We have to everything it takes to qualify because the Champions League is one of our goals this season.

The victory in Corsica seems to have done the trick?
Absolutely. After the defeat to Rennes there were a few doubts. To bounce back quickly was important. I hope we can reproduce our performance from the first leg against PSV in order to qualify.

No-one will understand if you are eliminated after winning the first leg…
Elimination at the hands of Eindhoven would of course be disappointing, but we're not even thinking about that. We're attacking this match to win it. Despite the fact that they are obliged to score, we're going to play our regular football and try and win. I've got confidence in our team, we'll be there.

Will it be a tactical match?
It will be very tight like it always is against teams like PSV who hit long balls to find their forwards. They're a hard team to play against because you can go for 90 minutes thinking you've totally dominated the game and then they can easily score in the final second.

You've had a few difficulties at home this year. What do you think about that?
It's true that since the turn of the year we've had a couple of problems at the Stade Gerland. We had two draws and then a 4-1 defeat to Rennes, but that's football. We mustn't dwell on that and remember that we have a quality squad. We have to attack this match and I'm sure we will.



« If we can go all the way and if I can score in each game, that would be great»



The UEFA statistics give you a 90% chance of qualifying, do you think that's a slight exaggeration?
No player is ever worried about the statistics. We'll be serious and respectful and we haven't forgotten that it was us that were eliminated last season. From their part, they're coming here to win as well.

You are risking a suspension due to yellow cards and this promises to be a very physical match. Have you thought about that?
No, because Champions League games are always very physical with plenty of challenges. If I'm suspended for a quarter-final and the team qualifies then I'll be happy.

Have you seen Alex's free-kick against Heerenveen?
No, I haven't, but I know he is a very good free-kick taker. We'll have to be careful because it's one of PSV weapons. I know him a little because we were together a couple of times in the national team. He's a strong defender who imposed himself very quickly at Eindhoven. He's one of their most important players with a terrific shot.

[IMG40096#R] They could play free of all pressure after their defeat at home. What's your opinion?
I don't think they'll see it that way? They've got a lot riding on their qualification and they'll be coming to the Stade Gerland to win. Look at Real Madrid who lost 1-0 at home to Arsenal. They'll be going to London to win. If you look at the statistics, you'd see that we win more games away from home so we have to be on our guard.

How do you rate this team as opposed to last season?
They're just as strong as last year. They haven't lost much and they still play with those long aerial balls with big strong players up front. Their left side has changed considerably, but they're still a very hard team to beat.

On a personal level, you've scored in each of the last four games. Have you ever strung together such a run before?
Not since I arrived at Lyon in any case. I hope the run keeps going but I repeat: the most important thing is the qualification.

It's been a good month in which you've kept scoring. Is your confidence back?
I never lost my confidence. At certain times you have less success than at others. But I start each match to play good football. Every free-kick I score is a bonus. If we can go all the way in the Champions League and if I can score in every game that would be great.

Do you think you could score from even further out?
Against Ajaccio it really was a long way out. It was a usual distance to hit a free-kick. I reminded me a little of the one I hit against Bayern. It was the type of goal that I'll remember for a long time.

After his error in the opening match, do you think you have the upper hand over Gomes?
No, it's a completely different game. We're top level athletes who try and forget the past to concentrate on the next challenge. On the contrary, I think he'll be even more on his guard on Wednesday.