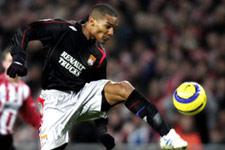 The pressure is mounting. Just two days until kick-off, are you starting to get impatient?

Yes. For the moment we're still working on recuperating from Saturday's game, but as of tomorrow, we'll start preparing for the return match and where we hope to qualify.
According to your president, Jean-Michel Aulas, it's the most important match of you season. Can you feel the pressure that's building around this match?
Yes, even if there was pressure before. After what we did in the first leg, now we have to finish the job. We know that the PSV players are coming here having abandoned all hope of qualifying. They've got the same objective as us. It will be a similar type of game to the first leg and I hope we'll get the same result.

The same type of match, but at home and with a one-goal lead. How will you look to manage that?
In European matches, the most important thing is not to concede goals at home. It's true that we have the edge but we have to use it well and not just hope to protect it at all costs. We'll be going out there to win.

In four matches against PSV in a year, you've never lost. You'll qualify if you keep that record in tact…
Effectively, our worst result against them has been a draw and another identical performance will see us through. But this time the situation is a bit different. We've forgotten what happened against Rennes. The idea is to push off from a solid base in search of qualification. We have to concentrate on our game and stand up to them physically, we have to construct a game that will allow us to score goals and, above all, not concede any.

Against Ajaccio, you remained solid and never doubted the result would come. Was that the perfect warm-up?
Yes. It was important to show that what happened against Rennes was just an accident. It's absolutely crucial before such a big game to be in form, both defensively and offensively. Once you got that, the team spirit will get us home. We've conceded a fair few goals at home recently. In Europe, that will be punished. We have to maintain our incredible team spirit and collective force that has been our strength in the difficult times and against Ajaccio. It's a crucial date in our calendar and that's why I'm sure we'll stand up and be counted.
On Wednesday, it's another competition with a quarter-final at stake against an opponent that we respect and that we want to beat to qualify.



« Juninho could back up another ten metres and start shooting from the kick-off »



You realise that as the last French team in the Champions League, all the country's football fans are behind you...
Yes. There's a lot of hope riding on our shoulders but that doesn't scare us. As we prepare for this match, we've got to concentrate on ourselves and our opponents but not everything else that's going on around. That's how we'll qualify.

There are a fair few absentees from the Lyon squad, but also from the PSV ranks, such as Ooijer. You're not too disappointed not to be playing him?
(Laughs). No, that's ok. At any rate, whoever the opponent is, they all play more all less the same. The first match left its mark and the second could be exactly the same. A Champions League quarter-final has to be earned.

[IMG40155#L] It's hard to know just where you'll be playing on Wednesday. Will it be frustrating to play in a position which isn't yours normally?
I'll do the best I can. I just hope to be able to play a whole match in my position.

And a quick word on Juninho's free-kick. If you had to describe it, what word would you use?
Juninhesque. We've asked him to take the kick-off now. If he can score from that kind of distance, he could back up another ten metres and start shooting from the kick-off.