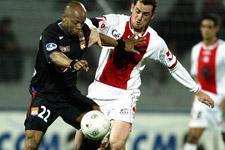 Reactions after the match between Ajaccio and Olympique Lyonnais.
Gérard Houllier: We played against a good Ajaccio that was playing one of its last cards tongith in terms of survival. At the kick-off, it really wasn't easy.
We saw a good game between two good sides.
We won the match, just as we have won every match before a Champions League clash. I find that reassuring because each time we've got the result we needed in Europe.
As for all the talk that accompanied our preparation for this match, I'm pleased that the players reacted. It was a courageous win, a win which showed their strength of character in the face of adversity. I liked our strength and our solidarity.
The first half reminded us of our talents and capabilities. Then Juninho unlocked the situation with another free-kick, this time from a record distance. I'm also happy for Fred who finally saw the fruits of all his efforts. He is a model of effort and sacrifice.

José Pasqualetti: After they scored the opener if suddenly became very difficult. I'm proud of my players who never gave anything away. The third goal was purely anecdotal.
Tonight there really was a big difference between the two sides. Lyon were just too strong and I wish them well for the rest of the season.

Benoît Pedretti: We showed that the defeat against Rennes was just a slip up.
Tonight we did what we had to do. During the first half we created a lot of chances without putting them away. Then Juninho scored that goal and we knew how to go on with it. Now we have a good nine-point lead.
My personal performance doesn't matter. What I'll remember is that the team won and played well.

Karim Benzema: It's a long time that I've been waiting for that goal. And it was important to ensure the three points for the win. It came at the right time.
Tonight we made the perfect start and from then on we never had any doubts.
For my goal, it needed that superb pass from Nino.



« If Juninho had children we would sign them immediately! - Jean-Michel Aulas»



Jean-Michel Aulas: Tonight was team revenge. The team bounced back brilliantly and was dynamic and assured. The players were able to overcome the difficult conditions.
This win is also for our supporters who are always behind us, we are proud of our fans.
The match began badly with the injury to Mahamadou Diarra. But as the game went on we were able to keep raising the pressure and we got the upper hand on Ajaccio. Juninho scored goal that broke the match open with a free-kick from what is surely a record distance. It was a goal for the history books. He is a formidable player and if he had kids we would sign them immediately. He boasts the most incredible talent.
All the same, now we have to turn to the match against PSV. It's the most important match of the year. We have to win on Wednesday to continue our Champions League adventure. It's all down to us as we represent France in Europe. PSV are a very strong team who haven't swallowed the defeat two weeks ago. All the Dutch papers say how much they want to qualify for the quarter-finals.

Juninho: It's true that it was a beautiful goal. It's probably the longest free-kick I've scored since being in France. All the same, the team's win is the important thing tonight. We showed that we are a team with quality.
I was particularly touched by the applause from the Stade François-Coty when I was replaced. It was a special moment and one that I'll remember.

Check out all the reactions on OLWEBPremium.