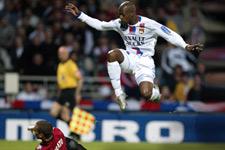 In losing to Lens and Rennes, it's relatively easy for Ajaccio and Lyon: neither side has any choice. The first is hoping for salvation, the second for redemption and keeping Bordeaux at a distance and with an eye on winning another French crown...
"This match against Ajaccio important and it will be interesting in terms of our performance and the result. We need to get our confidence back. However, there's no question of becoming obsessed with Bordeaux. We know what we have to do to reach our goals. Leading from the front is never easy, we never said we'd be champions of France without any worries. We're struggling at the moment by we have the ability to get going again, to win and above all, overcome the adversity."Gérard Houllier hasn't forgotten the defeat against Rennes, but he prefers to look ahead to the future. And the Corsicans have had a whole week to prepare for Saturday's match while the Olympiens had to be content with a trianing session and a tactics run-down due to the number of international obligations… but if all goes well, there should be more and more pressures on their time…

Beaten in their two most recent matches (Bordeaux and Lens), José Pasqualetti's side have stumbled in their hunt of 17th placed in the standings and now see Strasbourg ahead of them in the standings. Still, nothings over yet... "We can't throw in the towel, we have to believe. We need to take all three points on Saturday. We have to beat all and sundry if we want to get on the right track." The captain Rodrigo, on the club's website lays down the law before the visit of the leaders. He continues: "I think we need to make a great team start to this match. We get results and we will get results only when everyone presses the opponents. The support of the fans will of course be important." It promises to be a physical affair, without forgetting the skill of players such as André Luiz, Chafni... Up front there's Moussa N'Diaye, who's scored Ajaccio last four goals, and Lucas, who can score at any moment. All the same, José Pasqualetti will be denied the services of Rocchi, Jabi, Robin and Dzodic, while Antonio Carlos is doubtful.

What remains of the Rennes lesson within the Lyon ranks? First of all, a desire to rectify the result and rebound. "The players and the coach want a reaction. We have to get our heads down and work hard in order to get back on the road to victory. We hope to have made all our mistakes against Rennes and that there'll be no more for the rest of the season. There's no two ways about it..." Grégory Coupet sums up the feeling in the team before the trip to Corsica and concludes: "To play good football will be very difficult given the state of the playing surface. At any rate, away from home it's not up to us to make the running. That means we can be tighter at the back, more miserly."

Lyon do indeed play better away than at home. More points per match, more goals scored and less conceded. It's a year to the day that Lyon haven't lost away from home in all competitions. Something else to consider: They haven't lost two in a row since November 2003 (Anderlecht and then Rennes). In the league you have to go back to September 2002 with a trip to Nantes and the visit of Monaco. That's good because Gérard Houllier has already said: "a great team never loses two in a row" He also knows that in the match before this season's seven European matches, Lyon have registered seven wins. Ajaccio has already been there, before the Olympiakos match. And so this Saturday ? It's not sure that the former Liverpool boss will start with a two-man midfield, especially away from home. Changes? I'll take into account the internationals that played in midweek and also Wednesday's match against PSV…Gérard Houllier didn't want to reveal any more. Will, for example, the likes of Berthod, Pedretti, Clément, Ben Arfa be in the starting line-up? It doesn't matter because a season isn't played with 11 but with 16 players. It's this collective solidity that's needed to claim all three points from Corsica.