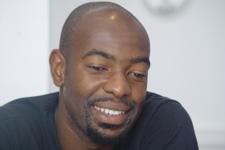 Claudio Caçapa gives us an update on his condition...
How is the captain?
I'm going well. I'm starting to work with more intensity today.

When will you be back working with a ball?
First of all I have to do a lot of physical preparation with Robert Duverne. I hope to back kicking a ball towards the end of next week.

So we can imagine that you'll be back in around two weeks, or after the PSV match?
I hope so because I'm receiving treatment twice a day and I can't wait to be back with a ball as quickly as possible.

So you think you'll be available for PSV?
No. It's too early. I can't take the risk and have to think about the rest of the season. I've just had another MRI scan and the inflamed zone is getting smaller.

Especially considering this season's end could be special with the Coupe de France, the Champions League and the Ligue 1. Are they the type of matches you want to play in?
Yes, of course there are a lot of exciting matches left this season. That's why I can't rush things and I need to keep working hard with Robert so that I'll be ready for these big games coming up.

How have you seen the recent performances by your teammates, particularly that 4-1 loss to Rennes?
Four is a lot of goals, even if we learn something from that defeat. We're off to Ajaccio to get the three points, even if we know i twill be hard because they're fighting for their survival. We have to show what we're capable of and can't let anything slip.
Of course I'm talking to them and motivating them but I'm not the only one. There are several leaders in this team and we want to be champions and for that we all have to get along.