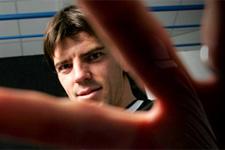 Between the France international and the trip to Ajaccio, Grégory Coupet talks to us about Les Bleus, OL and the league match in Corsica...
How do feel about the whistles and jeers that accompanied Fabien Barthez last night during France – Slovakia?
I'm upset. Putting our own personal battle for the No.1 shirt to one side, I'm upset because he's a France player being jeered by his own fans. That's certainly not the best wat to help a team win. On the contrary, the public's support is more crucial than ever because the team isn't necessarily in the best shape at the moment. Obviously we could see it as indirect support for me, but I think above all, that the people should be trying to help the France squad. We need the fans to be behind us and we were all affected by that whistling.
I'm not happy when Fabien makes a mistake or is in difficulty. We're both in a tight spot where everything we do is analysed. But I repeat: When you're wearing that blue top, there's only one objective, to win together.

Is a defeat 100 days from the World Cup a bad omen?
It's not reassuring, but we created a lot of chances during the game. We played pretty well but it wasn't enough. We can take comfort by saying that at least we won't always suffer from such a lack of success up front very often.
However we are all realistic: France should beat Slovakia at home and that wasn't the case yesterday. This match was unfortunately the final official match before the World Cup. Now we have to wait for the final list of 23 and work all together, look at the tapes and correct what isn't working.

How did you see the game from the bench? It's been a long time since you were last there...
(Laughter) Yes. It wasn't particularly enjoyable. I took it very positively. In my situation, I think that a lot of people would like to be in my place but everything is relative and that's not my ideal scenario.



« I was upset by the whistling of Fabien Barthez »



The match against Ajaccio is the next port of call for OL. After the heavy defeat to Rennes, do you expect a reaction?
Yes, but not just me. The coach expects a big reaction. We know that Ajaccio are fighting for their lives and it's going to be very tense. Following the match against Rennes where we completely passed to one side of the match, we need to knuckle down, question ourselves and re-launch with a win over there. We hope we made all our mistakes against Rennes and won't make anymore until the end of the season. All the same, it's better to consider that loss as an accident and remember that we've only lost two games this season. We can't think about it too much because we have to be ready to win in all three competitions we're playing in.
[IMG39629#R]Victory is imperative. We need the points ahead of playing PSV and confirm the words of the coach when he said : "a good team never loses two in a row."
To play good football won't be easy given the state of the pitch but we have to give it everything against a side that already caused us several problems with a reserve team in the Coupe de France. It will be a good match which will allow us to measure ourselves before the PSV game.

It's a year now that Lyon hasn't lost away. How do you explain being so strong away from the Stade Gerland?
Away from home we're not under as much pressure to make the running. That allows us to tighten everything up at the back. The games aren't as spectacular, but stricter and more serious. We're probably a lot tougher away from home.