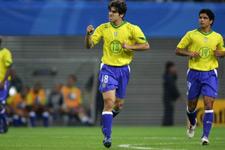 In a friendly match, Brazil defeated Russia 1-0 in freezing conditions in Moscow on Wednesday. The only goal of the game was scored by Ronaldo in the 14th minute.
Cris played the entire second half, replacing Juan in the centre of the defence. Fred came on in the 63rd minute, at the expense of Ronaldo. And in the 74th minute, Juninho was introduced, replacing Kaka.

In the 95th minute, Lyon fans were on their feet when a Juninho free-kick from was headed home by a diving Fred. But the goal was quickly ruled out for off-side.