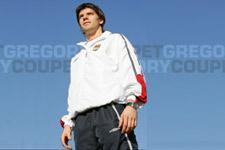 This morning, the sports paper 'L'équipe' published the results of a poll of 197 Ligue 1 players.
The question: Who is better, Barthez or Coupet?
69% of those asked voted for Gregory Coupet (against 31% for Barthez).
After having received the publics vote in a recent poll, the Lyon 'keeper now has the backing of his fellow professionals and just has to convince the national team coach...