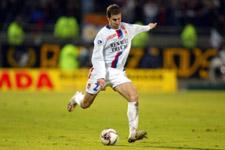 In the afternoon that followed the announcement that Eric Abidal and François Clerc had been selected for the national team, Gérard Houllier revealed his concern for the rapid reintegration of his left-back and his delight at the call-up for his right-back.
I'm annoyed by the selection of Eric Abidal. I don't want him to go and play with the France team because it's exactly the same scenario as November when he played three games in a row having just come back from a long absence. We paid dearly that time to learn that it had been one match too many. When we see how he plays now, it's clear that had we had him uninjured throughout the season, we'd have a much bigger lead in the standings.
Before this international friendly he'll have played Nantes, PSV and Rennes and that's already too much for someone coming back from injury. I fear the worst because it's already happened once. That's why I rang the national coach and asked him not to pick Abidal. He didn't accept and confirmed he'd be calling him up to play in the centre of the defence. I don't know if the club will let him go. Eric understands and he knows that he's at risk if he plays a lot of games in a short space of time. He hasn't forgotten that his objective is the World Cup and not a friendly against Slovakia.

I've already coached in a country where the national team coach was a lot more comprehensive because he'd been a top level manager in the Champions League. When we explained that we were in between two big games he would only use the player for one half of football. I remind everyone that in the last two France friendlies Anthony Réveillère and Florent Malouda were only meant to play the start, but played the whole games. Then, later, by some strange coincidence, both get injured.


« I fear for Eric Abidal (Gérard Houllier) »



It's bad timing, in between two Champions League games and two domestic league matches. There will therefore be a lot of players missing.
I can also see that the call-up has a big effect on Lyon and very little on Bordeaux. If I was Bordeaux I'd be delighted. It begs the question: Are there some people who don't want Olympique Lyonnais to succeed?

[IMG40189#R] There is, however, one very good piece of news in that list : the selection of François Clerc, who two months ago was hoping to get a loan to a second division team. It's a very nice surprise. He's a great example of someone with a great attitude, who holds himself well, who works hard and has now had the success he deserves. This season he's demonstrated a great mental strength and balance. He's intelligent and knows what he wants. A couple of months ago he would never have imagined himself here, but he seized his chance with both hands.
He learning fast and getting better and better. He's only just beginning and I've got great faith in his future. All the same, I'm amazed by just how in control he is when he plays. He nevers gets frustrated and he never panics.
One of his best qualities is his ability to listen. When you give him some advice, he uses it straight away. He's a great example for the youngsters in the youth academy.
All the staff here at Olympique Lyonnais are delighted and extremely proud of François' success. He is a much-loved member of the club and he loves the club.