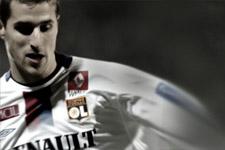 So François Clerc was called up by Raymond Domenech to the French squad for the friendly match against Slovakia on March 1. When he arrived at training at Tola Vologe he couldn't hide his joy or surprise…
So, François how did you find out about your selection?
"In fact it was my girlfriend who told me. She said, you're not with the Espoirs and that I was with Domenech's squad. I told her it wasn't possible and checked on l'Equipe TV. Me, today, I wanted to know if I was in René Girard's team. It's incredible news and at the same time a real surprise. I can't quite believe it..."

How have you dealt with everything that's happened to you recently?
"Since the start of 2006, everything has been going really well for me. I've almost played every game. But of course, this is my job and you always think about playing regularly with the pros. For me, it happened because Anthony was injured and Lamine was absent. That gave me the chance and I'm not complaining. The important thing is that the team works well."

Is this selection and type of consecration for you?
"No. You can't look at it as an end in itself. I have to continue to work, forever and always. The World Cup? You're jumping the gun a little bit, I'm having trouble believing that I'm in the squad for this friendly against Slovakia…"

As the players came out for training, his teammates gave him a guard of honour as he ran onto the playing surface at Tola Vologe. François appeared overwhelmed by his teammates kind gesture. It's not to long ago that Raymond Domenech, for his first match as coach of France, called up and played young Bordeaux midfielder Rio Mavuba who has only 22 Ligue 1 games under his belt. François Clerc, before the visit of Rennes, has 14 matches. Will he play? And if he plays, is there a French player to have represented his country having played less Ligue 1 matches?