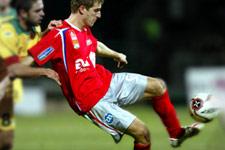 5 Lyonnais were named by France coach Raymond Domenech to play Slovakia on March 1: Coupet, Abidal, Malouda, Wiltord and... Clerc. Obviously in calling up Clerc, the tricolour boss has created quite a stir!
With just 14 matches in Ligue 1, including seven with OL this season, the right-back has experienced quite a rise through the ranks, he who started the 2005-06 season with the amatuers. He has just played eight games in a row, including seven starts (6 in the league, 1 in the Champions League and one in the Coupe de France as replacement for Réveillère in the 31st minute). Before then he had played Rennes - OL in the league and Nantes - OL in the Coupe de la Ligue.
Also note the immediate return ofAbidal only just back from his long absence with a broken foot.

Jérémy Berthod was picked in the France Espoirs side.