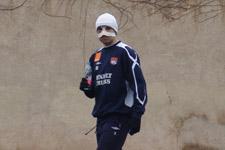 Photo of the day: A masked Cris. Cris will wear a custom made Orfit Mask, to allow him to continue to play without any discomfort or danger. This mask protects his injury while an elastic band holds it firmly in place.
He will haver to wear the protective headwear for four to five weeks, at training and during matches until his his fracture is totally healed.
During his first training session, on Thursday afternoon, Cris said he felt no discomfort.