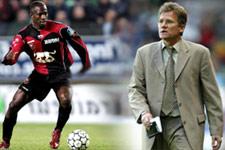 The Bretons of Stade Rennais have not lived up to their 2004-05 season. They are currently 12th with 35 points (11 wins, two draw and 14 defeats: 29 goals scored and 41 conceded) and boast the worst defence in the league.
Away from home, Olivier Monterrubio and his teammates have won four (Monaco 2-0, Strasbourg 1-0, Ajaccio 1-0 and Nantes 2 -0); one draw (Lens 0-0) and nine defeats (Lille 1-0, Le Mans 4-0, Nancy 6-0, Troyes 2-1, PSG 2-0, Marseille 1-0, Bordeaux 2-0, Sochaux 1-0 and Auxerre 2-0). Just 13 points, seven goals scored and 21 conceded.

Utaka has six goals, Frei 5, Kallström and Monterrubio 4, Gourcuff 3, Briand and Hadji 2, Didot, Mvuemba and Ouaddou 1. Four goals came from outside the area and 25 from from inside; 12 goals came from crosses, four from corners, three resulted from free-kicks, one from a free-kick (Bordeaux), one penalty (Toulouse), seven headers (Frei 3…). 41 goals conceded: 36 from inside the area; ten headers, 12 from crosses, ten resulting from free-kicks, two from corners, four penalties (Auxerre, Bordeaux, Nancy and Le Mans).

47 yellow cards (Adailton 6, Kallstrom and Faty 4, Frei, Perrier Doumbé, Edman, Mbia and Utaka 3…) Three red cards (Jeunechamp, Monterrubio and Hadji).

26 players used; none have played all 27 matches: Gourcuff, 25; Kallstrom Monterrubio, Frei, Edman and Bourillon, all have over 20 games. Jeunechamp, Ouaddou and Frei will be missing against OL.

The referee for the match will be Mr Auriac, who refereed Strasbourg 0-1 Rennes. He has not refereed OL before.