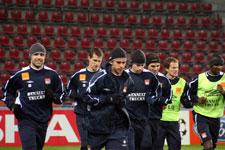 Guus Hiddink is used to protecting his squad. Lyon headed to Philips Stadion in the mid-afternoon. Despite a constant rain, the pitch is playable…
Before leaving for training at Philips Stadion here's a quick resume of what Guus Hiddink had to say at his side's press conference. "On Tuesday, the pressure will be on Lyon. My team is young and I can't say for sure how they'll deal with it. Last season, OL caused us more problems than AC Milan in the semi-finals. PSV will need to be at 150% in order to get a result. But what I can say is that I'm already proud of my players to have made it to the last 16. For now, I can't see us getting any further."

PSV's home, red and white, is really superb, without being over the top as it holds a modest 35,000. At 17:45, Diarra and co. began warming up without the ball. Then the balls came out before the team ran through Tuesday's, game plan. 45 minutes later the first players started heading for the changing rooms. Coupet and Diarra went through their traditional passing exercise the day before a match, others worked in front of Rémy Vercoutre's goal. Back inside, Jérémy Clément complained of a sore throat. The Dutch officials have predicted temperatures even colder on Tuesday... great!

Meanwhile, the Lyon staff was unhappy with the welcome they received from PSV. "I've never seen anything like that before, not since the really old days…" Gérard Houllier did not appreciate having to walk across the runway at the Eindhoven airport. In terms of the play, Lyon seem set to return to a 4-3-3 formation, one that served them so well since the start of the season. "There will be freshness, especially with the presence of Govou from the start, since he was at the press conference..."
[IMG40157#L]A little after 19:00? Time for the team to return to the hotel for dinner. The team will then have their pre-match talk as they prepare to embark on a new phase of the Champions League.