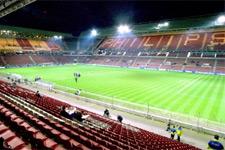 From the stadium to the referee, via the team stats sheets, take a closer look at PSV – OL…
The Stadium:

Philips Stadion has a 35,000 seat capacity. Full-houses are regular occurrence, as was the case for last year's Champions League quarter-final return leg between PSV and Lyon.

The Coach:

Guus Hiddink:

PSV's coach was born on 8 November 1946. He played for PSV from 1970-71. He also played 'soccer' with the Washington Diplomats and the San José Earthquakes. He became a trainer in 1981 with De Graafshap before becoming PSV's assistant coach from 1983-87 and then head coach from 1987-90. Then he took over the helm at Fenerbahçe (1990-91), Valencia (1991-94), the Dutch national team (1995-98), Real Madrid (1998-99), and South Korea from 2001-02. He has coached PSV again since 2002 and also recently took over the Australian national team, qualifying the Socceroos for the World Cup in Germany.

[IMG40137#L]He has won five Dutch league crowns, four Dutch Cups, one Dutch Super Cup, and the European Cup in 1988 (0-0 v Benfica – penalties). His Champions League record stands at 36 matches (six with Real Madrid the rest with PSV): 17 victories, eight draws and 11 defeats; 56 goals scored and 45 conceded.

The Referee :

The referee will be the Greek Kyros Vassaras. Born on 1 February 1966 in Thessalonika, he has been an international referee since 1998. He officiated at the European Championships of 2000 and 2004; and the World Cup in Japan and South Korea in 2002. He also refereed the final of the Olympic Games in Athens. Last season he took charge of the Champions League semi-final between AC Milan 2-0 PSV Eindhoven. He refereed Lyon 0-0 Ajax in 2002-03. He is a consultant away from the football field and enjoys painting and swimming.

[IMG40138#R]Lyon and Dutch football:

Three Dutch clubs have previously played OL, all of them in the Champions League.
- In 2000-01, the double header against Heerenveen finsihed with two OL wins: 3-1 (home) and 2-0 (away). Marlet and Anderson got two goals apiece, Malbranque 1 and one own goal.
- In 2002-03 Ajax won both meetings: 2-1 (in Holland) and 2-0 (at the Stade Gerland). Anderson scored 1 goal.
- In 2004-05 came PSV Eindhoven for two 1-1 draws and the Dutch winning on penalties. Malouda and Wiltrod scored a goal each. Cocu and Alex got the others.

OL and PSV also played each each other in the Peace Cup in 2003 and 2005. In 2003, the Dutch won the final 1-0. In 2005, in the group stage, the match finished 1-1 with a goal from Malouda from a Réveillère cross. Caçapa and co. qualified for the final.

2005-06 Champions League record:

PSV:

PSV 1-0 Schalke
Fenerbahçe 3-0 PSV
AC Milan 0-0 PSV
PSV 1-0 AC Milan
Schalke 3-0 PSV
PSV 2-0 Fenerbahçe
Three wins, one draw and two defeats: four goals scored, six conceded. Ten points, second in Group E behind AC Milan. No goals scored away from home, none conceded at home. Farfan has scored two of the four goals.

Guus Hiddink's side is leading the Dutch championship after 25 matches with 63 points. 20 wins, three draws and two losses, 51 goals scored and 16 conceded. Farfan has scored 17 goals. The side is also still in the domestic Cup competition.

Olympique Lyonnais:

OL 3-0 Real Madrid
Rosenborg 0-1 OL
OL 2-1 Olympiakos
Olympiakos 1-4 OL
Real Madrid 1-1 OL
OL 2-1 Rosenborg
Five victories and one draw. 13 goals scored and four conceded. OL finished with16 points and first in Group F ahead of Real Madrid (ten points). Carew 4 goals, Juninho 3, Fred 1, Benzema 1, Wiltord 1, Govou 1, Diarra 1, Cris 1.

Tuesday night will be Lyon's 127th European match and the 55th in the Champions League.