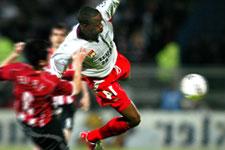 Just ten months after their penalty shootout quarter-final elimination, OL meet PSV Eindhoven in the Champions League, but this time it's in the last 16. Old foes are to be reacquainted and Les Lyonnais can't wait...
"Revenge is something for the school playground." Even if, upon his arrival last summer, Gérard Houllier had understood immediately that the team still hadn't overcome its quarter-final defeat of the previous season, there's no question of heading to the Netherlands looking for revenge. Although he can imagine that the players who were present on April 5 and 13, 2005 will have certain supplementary motivation.

Since that double-header, PSV and OL met again in the Peace Cup in South Korea in July for a third consecutive draw, however that time, it was a draw that suited Lyon. Since that match the two sides have changed. For PSV, the incredible Koreans Lee and Park both headed to show off their talents in England. Vogel, headed for Italy, Van Bommel to Barcelona. With Bouma, the other departure, they were all in the starting XI. And so the new faces arrived, or emerged, such as the Ivorian Koné, the Belgian Simons or another Dutchman, Reiziger. A place for the youngster Affelay… as for the old heads, Cocu is still there to direct the team, the Peruvian Farfan is there to score the goals, Gomes to keep the goal safe, Vennegoor is still 1.91m tall and finally Ooijer, Lucius and Alex, nicknamed 'the Tank', haven't changed their robust style. And then there's Guus Hiidink the chief commander.

We have to be careful of Cocu's long-ball game, he looks often for Vennegoor who in turn tries to nod on for Farfan. The Dutch are dangerous from set pieces, they don't like to make the running and dominate possession, but they do like leading on the scoreboard. They have some quality individuals like Alex and Cocu and this wonder Farfan, quick, intelligent, and deadly in front of goal..." Bruno Génésio knows PSV by heart from having gone to see them play more than once. "They are very, very strong."

Gérard Houllier also knows the strengths... and the weaknesses of the Red and Whites. His credo: "In the Champions League, the smallest error is prohibited. It always ends in a goal... you have to be more attentive, more focused and push yourself beyond your limits..." A glance back at the two goals conceded last season (due to a lack of concentration) and Houllier will most certainly be getting his message across. If the Philips outfit has changed recently, to the point where there's not a single Van-something-or-other like in the days when they won the Cup Winners Cup in 1978 (against Bastia) and the European Cup (against Benfica) in 1988, the Olympian squad also has a number of new faces with the presence of Carew, Tiago, Fred, Müller… the departure of Essien... and the injuries to Cacapa and Réveillére. Not to mention a new coach. Guus Hiddink will find sitting him opposite him on the bench, Gérard Houllier, brought in by president Jean-Michel Aulas for, amongst other reasons, his European experience. The former Liverpool boss is familiar with the music across the length and breadth of Europe and he knows how to step in time.

The win against Nantes helped Juninho and co. get back on the right track. 'Juni' also rediscovered his scoring touch with a free-kick. If PSV's set-pieces are to be watched very carefully, those of the Brazilian maestro are a constant threat to opposition 'keepers: three goals already this season (Real Madrid and Olympiakos x 2) not forgetting his two assists, also from free-kicks, for Carew (Real Madrid and Olympiakos). Juninho is always up for these big European nights while Carew will also be looking to continue where he left off in the group stage with four goals and an assist. "The big players are always important in this type of match," Gérard Houllier reiterates.

A dose of freshness is predicted for kick-off. That will be good news for Tiago, Govou and Carew who started on the bench against Nantes. The side will almost certainly return to a 4-3-3 formation, while it can always adapt to the match circumstances. As Grégory Coupet said: "There's no question of making a mess of this first game." Does that mean that Lyon will be sitting back and watching more than usual? "The team that wins this type of match, even the competition, is the team that defends the best. Look at Porto or Liverpool… keeping possession of the ball doesn't mean you qualify. Barcelona's elimination at the hands of Chelsea last year is the clearest example." Gérard Houllier goes one step further: To go all the way to the Stade de France, every risk must be calculated. And that begins on Tuesday night at the Philips Stadion where Mr Kyros Vassaras will have an important role to play. Let's hope his whistle works better than those of Luigi Collina and Kim Milton Nielsen!