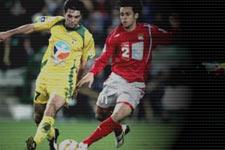 The Champions League is just around the corner... Bordeaux are closing the gap at the top… Lyon has stopped winning. What does it all mean? If 'Les Lyonnais' are to go to Eindhoven on Tuesday in the right frame of mind, then they know what to do against Nantes…
Yes, gentlemen, now is the time for a win, pretty or otherwise. "It will be a huge match for us, for the rest of the season and especially for PSV. We're lacking confidence and I think Bordeaux definitely capable of catching us in the league..." said Govou, while admitting that certain factors were beyond their control (injuries, difficult playing conditions, etc…). Gérard Houllier said the same thing, while demanding a return to quality football.

In recent weeks, Lyon has struggled to recreate its trademark football for various reasons, all of which have been discussed over and over again. As Paul Le Guen often said: above all, you have to keep the points tally ticking over. "With 24 points from our 13 final games, we will be champions of France. We have seven games at home and six away and even if we drop a few points at home, we have the talent to pick them up away…" Gérard Houllier is not worried, but is remaining humble, just as he demands of his players.

Everyone remembers the first meeting between these two sides this season. Grégory Coupet produced one of the best goalkeeping performances of his career in making 11 saves, six of which were world class. His show began with a penalty save at the start of the match and Fred then scored the winner with a header from a Florent Malouda free-kick. Since then, Nantes has continued his course in the lower half of the table. Diallo has emerged as real goalscorer with nine strikes this season. The youngsters are, as always, present in a Nantes side led by the experienced faces of Landreau, Delhommeau, Savinaud, Da Rocha and Cetto. Cetto and Landreau will be missing this Friday. The former is injured while the latter is suspended, which means that "Mika" will have missed both matches this season. Tony Heurtebis will have a chance to warm up the gloves on a stage he hasn't since February 2003. On that night, he had produced an incredible performance to single-handedly earn Troyes a 0-0 draw, stopping 16 shots on target! Finally, it was Les Canaris that knocked Lyon out of the Coupe de la Ligue on penalties back on October 25, but they played against Troyes on Tuesday and may be feeling a little heavy in the legs... "We're not worried.... We have nothing to lose when we visit Lyon," said defender Loïc Guillon, summing up the feeling in the Nantes camp.

[IMG40135#R]Will the Yellow Wings be in form or not, is perhaps of no concern to Juninho and co. A quick look at the last three team-sheets and it's plain to see that the French champions are struggling to hit the back of the net. Seven clear-cut chances for one Diarra goal against Auxerre, three chances against Bordeaux without result and four against Lens for a late, late equaliser. Two goals from 35 tirs… the figures are a long way off the season average of approximately one goal every eight shots. Juninho isn't scoring anymore... neither is Carew… It's up to the goalscorers, forwards or otherwise to stad-up and take centre stage for OL's 36th official match of the season. As for the defence, it has been strengthened by the return of Eric Abidal. Malouda must be a relieved man, just like Gérard Houllier. "Eric will start the match and I will make a few changes with an eye on Tuesday's game. Freshness will be important. And I can confirm that there is no drama, nor 'Gerland Syndrome' after these three successive draws. I can assure you that we will finish this season very strongly… Our link-up play between the midfield and the attack has been working well recently but it will come good," the words of a coach happy to be able to play and train in the proper conditions as France thaws. The mystery will be who plays up front between Benzema, Carew and Fred… but there's no question of Lyon getting struck down with the bird flu on Friday!