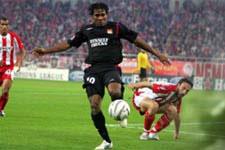 Florent, this temping job at left-back actually worked out pretty well…
Yeah, it went well, even if it was a bit close with us equalising in stoppage time/
As for my match at left-back, I tried not to think about it too much. First and foremost I tried to do my defensive duties. I essentially tried to stop myself charging forward in order to keep it solid at the back, in other words, I didn't do a Roberto Carlos.
The coach didn't tell me not to get forward, but I held myself back because when you start, you can get blinded by going forward. I wanted to keep the teams shape and that came fromp staying 100% focused on my defensive role.
To make matters worse, I was up against Pierre-Alain Frau who had energy to burn.

You saw Eric Abidal back at training. You probably can't wait until he's back in the team?
Yes. He's had a good game with the reserves, but he mustn't take the slightest risk. I've already had a long-term injury and I know that when you come back you have to take your time to avoid a relapse. He should take his time because he was gone a long time.

After three draw on the trot, the win against Nantes now seems indispensable...
It certainly does. The three draws have really brought us back to the pack. We were going so well that obviously we're not happy with three draws. Now we have to rediscover top gear and win back those points.
With Bordeaux and Lens we were up against two big, physical sides and we struggled to find solutions. Both those teams played a very physical style with lots of challenges. In the end, we probably lacked a bit of lucidity to unsettle them. It's always tough against teams that play so defensively. At the start of the season we were often saved by a dead-ball situation but now the teams are so well drilled it's not easy.
The game against Nantes has come at the right time because I think we'll start winning again. We need to take advantage of these next two games (Nantes, then Rennes) to relaunch ourselves.



« The ai mis qualify... via the front door, or via the window »



Can the number of injuries and the constant changing of the team be the reason for the current form slump?
I don't think so. It's true that the defence has been decimated by injuries, but the attack hasn't changed much. At any rate, every team has injury concerns. It's certainly a factor to take into account but it shouldn't be an excuse. We've always talked about this side's spirit and just because we've slowed down a little, it doesn't mean [IMG40128#R]we're going to go back to the drawing board. We have to take control of our destiny and win back those points. The main thing is to win. You'll see that all of a sudden everything will fall into place. We are really confident.
br /> Nantes comes just before another big match against PSV. Are you already looking towards this Champions League clash?
No. We're just taking them one game at a time.
To prepare well for PSV, it's very, very important that we beat Nantes. I twill do us the world of good and give a real boost of confidence.
We'll just try and forget about this game against PSV and try to get back our touch in front of goal while maintaining our defensive solidity.

What does the match against PSV represent for you?
It's a turning point for the season, not only because it's PSV, but also because the Champions League is one of our main goals this season. The championship is our number one aim, but the Champions League is a shop window. In regard to our group stage, we have to build on that and pass this next test to stay in the hunt for the Stade de France. We're playing a big team but more than that, we'll be up against ourselves. We mustn't forget that the aim is to qualify for the next round, by the front door, or by the window. We have to forget that it's PSV and think that it's just another round to pass.