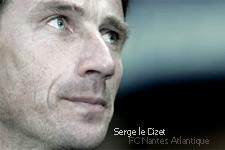 Les Canaris visit Lyon this Friday. Before their match in hand against Troyes, Les Canaris have 33 points, 9 wins, 6 draws and 10 defeats; 27 goals scored and 25 conceded.
Away from home, Landreau and co. have recorded 3 wins (Rennes 3-0, Ajaccio 2-0 and Metz 4-1); 2 draws (Bordeaux 0-0 and Nice 1-1) and 7 losses (Troyes 1-0, Sochaux 1-0, PSG 2-0, Lille 2-0, Marseille 2-1, Auxerre 4-0 and Toulouse 1-0). They have scored 12 goals and conceded 14. 6 times out of 12 away matches, Nantes have failed to score, compared to 5 out of 13 matches at home.

Nantes have scored 4 goals from outside the penalty area and 22 from within; 3 headers; 1 from a free-kick (Bamogo v Marseille); 1 penalty (Keseru) and 3 missed penalties; 8 goals from crosses; 1 from a corner and 1 resulting from a free-kick. They have conceded 22 goals from inside the penalty box and 3 from outside; 7 headers; 2 free-kicks (PSG and Sochaux); 1 penalty (Strasbourg); 7 goals from crosses; 3 resulting from free-kicks; 3 from corners. Diallo has scored 9 goals including two braces and a hat-trick; Bamogo 4, Fae, Keseru and Da Rocha 2…

Serge Le Dizet has used 26 in the 25 matches; only the Malian Mamadou Diallo has been involved in every match. The goalkeeper Mickaël Landreau has played 323 Ligue 1 matches, he is 26-years-old and began his professional career at 17; all 323 matches have been for Nantes. Of the players currently playing in L1, only Guillaume Warmuz has done better having worn the Lens jersey 352 times.

45 yellow cards: Cetto 7, Toulalan and Bamogo 5, Leroy and Dimitrijevic 4, Da Rocha and Signorino 3…
3 red cards: Cetto, Leroy and Capoue.

Nantes are in their 43rd concesutive season in Ligue 1 and have a record of 12 wins and 9 draws at the Stade Gerland for 15 defeats; 44 goals scored and 48 conceded.

Monsieur Damien Ledentu will referee the match. He has already refereed Rennes 0-3 Nantes, OL 1-1 Lens and Nancy 0-2 OL this season.