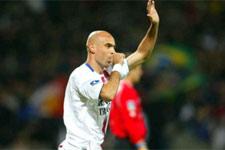 The press on Sunday has once again delved into AC Milan's rumoured interest in O.L.'s Brazilian defender CRIS, this time even going as far as to announce a fee of €20m for the transfer.
O.L. formally denies this pseudo information and repeats that any transfer of this nature has ever been envisaged by the club, or CRIS, who himself signed a contract extension last summer, tying him to the club until June 2009.

O.L. condemns these rumours which border on being deliberately misleading, designed only to destabilise the club and its players.

Meanwhile, concerning the Brazilian attacker NILMAR, loaned to Corinthians, O.L. reiterate that the Brazilian champions have a buy-out clause, included in the loan contract, fixed at €10m. O.L. has not yet been informed of Corinthians position, nor of the possible arrival of Marcelo, to complete the deal.