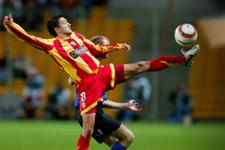 After winning four consecutive league titles, including three with Lyon, Eric Carrière talks about the problems he's faced at RC Lens and gives us his impression of Olympique Lyonnais 2005/06
When you arrived at Lens you were a crucial part of the plans, captain and playmaker. Now, however, you start a lot fewer games. What do you put your change of status down to?
The basic reason is because the coach hasn't been playing me. Last year it was Joël Muller and his staff that brought me here. Then Joël Muller quit and he was replaced by Francis Gillot. So I played a little less but even so, I still finished the season well.
This year is hard for me, because I've hardly played at all. Despite that, I'm trying to stay professional and respectful of the club.

French football specialists say that the Racing Club de Lens has the biggest team in the league. You, however, are not a big guy, but you do have skill and finesse. Don't you think the coach could use you more to bring something different to the team?
In terms of size, it's true that I'm much smaller than most of the players in the league, but it was always like that. Even when I was voted the best player in the league with Nantes I was still the slowest player there. So obviously I've got other qualities. Some have a habit of forgetting. It's true that I would prefer to play as a central playmaker because that's my best position. This season the coach has been playing me on the wing where ideally, I'd have a bit more pace and strength. That's why I try to cut back inside so often.

For the first time in five years, you finished a season without winning the title. Was that hard to live without?
It's not too hard to deal with because there aren't very many players in France with a CV as good as mine. I don't think it would have been very good form to start moaning because I didn't win the title. But it's true that it didn have it down times because I'm used to finishing seasons with a smile. So, yes, I miss it a bit, but I'm not going to start comlaining because I've had my share of success.

Do you still follow OL's results? Are you still a fan?
For a start, I'm a football fan and not the fan of just one team. I love the game, and the tactics in particular.
I'm impressed, but not surprised by Ol's improvement. After their domination in the league, and it's good for them to translate that in Champions League success. Their performances have been remarkable. They were in a quality group with a lot of talented and strong players but they still played good football. It's the result of a long-term plan for OL and now they're reaping what they sowed.

How do you see the match against OL? What will be the key, and who do you think will win?
It's a match that we really want to play. I said recently that everyone wants to play against Real, Juventus, or even Chelsea. Well, today, Lyon are just as good as them. For the players it will be great. The last matches between the two sides are always very tight. Last season was the same because we lost both games 1-0. This year, after the draw at the Stade Gerland. A little 1-0 would suit me fine.