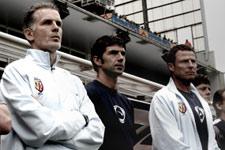 This Sunday, Coupet and co. are heading north to the Stade Bollaert for the 39th meeting between Lens and Lyon. It will be the Olympians 13th road trip of the season, Lens are hosting for the 13th time.
If the quadruple champions of France have won eight games and drawn four away from the Stade Gerland, the teammates of Hilton count six wins, five draws and a loss at home, scoring 21 goa ls and conceding just eight: Marseille (2-0), Auxere (7-0), Toulouse (1-0), ASSE (2-1), Le Mans (2-1) and Strasbourg (2-1) are the tams that lost; Bordeaux (1-1), Rennes (0-0), Nice (2-2), Metz (0-0) and Monaco (1-1) got draws while Nancy left with a win (2-1). In other words, 23 points of their 37 have, for Lens who have scored 32 goals overall, conceding 21. The last 15 minutes of the first half is when Lens have scored most of their goals (nine), whereas it's the second in which they have conceded the most (five). With 13 draws the northerners are leading the league in that category.

Francis Gillot's side have scored 29 goals from inside the penalty box and three from outside. One free-kick (Thomert against ASSE), three from free-kicks, nine from crosses, four from corners, two from penalties (both scored from the rebound). Eight headers. Cousin has scored nine goals (five with the right foot, three with the left, one header), Aruba and Thomert 5, Jussié 3, Diarra and Hilton 2…18 goals conceded from inside the penalty box, three from outside; six from crosses, one penalty (against Bordeaux), one from a free-kick, one from a corner, four headers.

21 players have made Ligue 1 appearances this season: Charles Itandje has played in all 25 matches. He was sent-off at the end of the first half against Marseille. 43 yellow cards, eight for Assou-Ekkoto and A. Diarra, four for Thomert and Cousin… Il a été expulsé en fin de première période à Marseille. 43 cartons jaunes dont 8 pour Assou-Ekkoto et A. Diarra, 4 pour Thomert et Cousin…

8 times Lens have exceeded 30,000 fans at their home games. 39,274 were present for the match against Marseille, 39,174 for the visit of Le Mans du Mans... and only 29,174 for Toulouse.

The referee for the match will be Mr. Bruno Coué who has already controlled Troyes-Lens (1-1) and Lille-Lens (0-0). As for Lyon, he refereed the win over Rennes, 3-1.