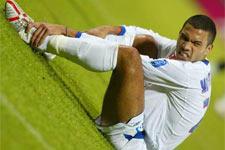 Sylvain Monsoreau talks about the injury he suffered in the match against Bordeaux.
Sylvain, how do you feel after getting injured?
It's a huge disappointment. Any sportsman is obviously disappointed when they get injured, but it's part of the job and we've got to know how to deal with it. Now I have to concentrate on getting back to top form. I'm going to miss some big matches, especially in the Champions League, but I have to take my time to avoid re-injuring the same thing when I come back.

How do you explain all these injuries that have hitthe OL defence?
It's just bad luck. We've pretty much all had the same type of injury, in every position at the back, but it's very hard to find an explication for mine. There could be a number of reasons: the frozen pitches, a tough game against Ajaccio and constantly charging up and down the left wing.

Two days after the game, what do you think about the Bordeaux side?
It was a very hard game against a team that came to defend and keep a clean-sheet. We thought we were going to see a more attacking Bordeaux, but in the end they defended very well.
For our part, we weren't able to play our usual game. As a result, the match was very tight with few chances for either side to score. The match could have swung on a set piece, but unfortunately we didn't have any luck, the proof was Cris hitting the crossbar with his header. Overall, it was a good point taken against second place. Considering that Auxerre and Lille lost we did well because now we have a nine point lead and a match in hand.