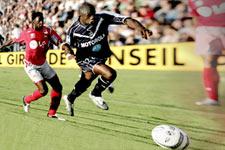 Match of the day… top of the table clash… battle for the title… the best attack in the league (Lyon) against the best defence (Bordeaux)… the return of Patrick Müller to Gerland… the hope of a title race for the press…
The cold has gripped the city of Lyon and already people are wondering about the temperature of Sunday night's match. The Gerlandpitch is in risk of resembling an ice-skating rink, but not for the same reasons that Mr Bertrand Layec called off the match against Monaco. The leader is taking on second. It's the last classic big match cheduled at home for Grégory Coupet and co. aside from the derby. This meeting between OL and Bordeaux has released a frenzy of interest, questions and passions. In a word, it's excitant as Gérard Houllier put it on Friday.

All the ingredients are indeed there to make this an exciting clash. Even the mathematics of the outcome: A 6, 9 or 12 points lead at the end of 90 minutes? It's not the same thing just 13 games from the end of the season with the quadruple French champions still with a game in hand. Those that still dream of a little suspense, they're looking at the number 6! If Bordeaux are still dreaming of the title, they know they must win. Les Girondins, transformed in such little time by the Brazilian Ricardo, appear most like a huge impenetrable fortress. Only 12 goals conceded in 24 matches; 14 times, Ramé eand Roux (1 match), kept cleansheets; 8 times, the international 'keeper conceded a solitary goal. This solid team have won nine times by the scoreline 1-0. On 14 occasions, they scored just one goal but reaped an impressive 32 points! When the Blues have scored, they've never lost. On six occasions they've failed to find their opponents goal for three draws and three losses. 14 times they've led for 11 wins and 3 draws. Impressive statistics but also a target. "They tell me that Strasbourg play good football, but where are they in the table? The critics… we don't care," said Jean-Claude Darcheville.

The Bordeaux 2005-2006 is a very good vintage, if a little bland. The Brazilian colours (Ricardo, Henrique, Denilson, Fernando) have added more efficiency than bravado. With Jurietti (missing on Sunday), Jemmali, Planus… was already good at defending. Laslandes is slowly but surely adding to his collection of Ligue 1 goals (120) and maintains his top place of current players ahead of Pauleta. Darcheville is ready to do the dirty work for the team. Denilson is still an enigma and needs to be watched. As for the defender Beto, he'll discover the French league having scored twice on debut in the Coupe de France…

[IMG40033#R]This minimalist Bordeaux haven't fallen away like last season and are rightly evoking the Champions League without mentioning the league crown itself. But they are certainly coming to the Stade Gerland with certain goal. Here's an example of recent declarations. Ricardo: "In football, there's no such thing as Mission Impossible… We're going to Lyon to win all three points…"; Faubert: Ever since the first match we've known we could cause this side some problems."; Darcheville: "At Lyon, we'll let ourselves go." Laslandes: "Even a machine as well oiled as OL can stick now and again." Their words speak of a suerb 'battle', of which we had a taster in the first match this season. On that day, Lyon could count themselves lucky to have got a share of the points. Monsieur Derrien failed to blow one, or several penalties for the locals while still giving 37 free-kicks against Lyon (10 against Bordeaux) and six yellow cards to two.

Gérard Houllier is excited by the idea of playing second place. The big games are for the big players. This match will be won by 14 players. We also want to put the record straight about what happened in Bordeaux… but I know there are also other matches that OL have to win this season to be champion. We'll know more at the end of February. Les Lyonnais have paid for the extra-time against Ajaccio in reaching the last 16 of the Coupe de France. They lost Réveillère (hamstring) which didn't please the Olympian coach. Luckily Patrick Müller showed he want need extra time adapting to his new short, the one he left in May 2004. ' Pat' is back and he'll certainly remeber the ast time he played against Bordeaux and the 3-0 win that resulted. Diarra, having experienced a death in the family is back after a one-match ban and a return trip to Mali. His presence will be a welcome gift in a midfield which risks being crowded. Youngster Clerc will be looking for another big home game after excellent performances against Marseille and Auxerre. He showed he has the quality to play on the right. Up front, Gérard Houllier has choices, knowing that the warrior [IMG40034#L]Fred will start. And for the captain, Juninho, who has never scored against Ramé, he'll be looking for his free-kicks to once again prove the difference.