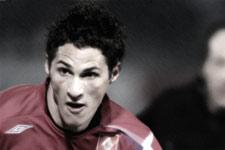 Jérémy Clément hadn't started a game since October 25, 2005, against Nantes in the Coupe de la Ligue. On Wednesday, against Ajaccio, Gérard Houllier decided to give him another run from kick-off.
"I was really happy to start. I was meant to start against Monaco, but the game never took place. In Corsica, it really wasn't easy, due mostly to the state of the pitch. Qualifying in those conditions was an added pleasure." How did he see his performance? "I felt more at home when I moved back in front of the defence instead of Tiago who moved further up. I got to see more of the ball, but I above all, I'll remember the qualification."

Jérémy has played 29 Ligue 1 matches and scored one goal. Gérard Houllier has used him 13 times since his arrival. He has played six times in the starting line-up, including the win over Auxerre in the Champions Trophy in the start of July. He has come off the bench seven times. Isn't the constant sitting on the bench or playing with the reserves to hard to handle? "Not playing can be hard on the morale. I hope to see a bit more playing time in the weeks that come and I'd love to finally start a match at the Stade Gerland in the league. Keep in mind that Jérémy will be out of contract in the summer of 2007 and needs to start making decisions about his future. "This season, there's still plenty to win with OL and I'd love to play in the European championships with the Espoirs."

This Sunday, Les Girondins will be playing at the Stade Gerland. "I think this is really the league final. If we win we'll have taken a giant step towards the title. The first match this season was tough. Bordeaux are a good team that don't concede many goals. They have some players I really like such as Mavuba and Faubert who are guys I play with, with the Espoirs. It should be a good match, a tough match. I twill be a tght match and I don't think there'll be much in it at the final whistle. We only have one thing in mind: Win."

Before taking part as guest tipster for Round 25 , the Lyon left-footer told us he hasn't forgotten the former players that came up through the ranks with him. "I'm always speaking on the phone with Bryan Bergougnoux, Sylvain Idangar, Yacine Hima, Christophe Chapdaniel. It would also be great to draw La Duchère in the Coupe de France. I played in the juniors with nine of their current squad…"

PSG – ASSE: At home, PSG will win with Saint-Etienne having so many absentees.
Ajaccio – Auxerre: Most of the Corsican regulars were rested in midweek. Ajaccio to win.
Lens – Strasbourg and Metz – Nancy: Draws
Nice – Lille: Lille. There one of the teams that have impressed me the most this season.
Rennes – Monaco: Rennes. The Bretons are never easy to beat at home.
Sochaux – Le Mans: Sochaux… But I don't know why…
Toulouse – Nantes: Toulouse for Bryan ».
Troyes – OM: Marseille have what it takes to get the win.