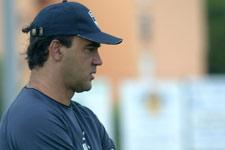 Girondins de Bordeaux are back. Ricardo Raimundo Gomes has revolutionised a side that finished two points from Ligue 2 at the end of last season!
Just a few months later, drawing on his experienced players, still as motivated as ever, and an intelligent recruitment program (most notably the arrival of three Brazilians), letting certain players go, and an expertly drilled organisation, the blue shirts are back at the top. Solid, to the point of being boring, Bordeaux are nonetheless favourites for one of next season's Champions League berths.

45 points in 24 matches; 12 wins, 9 draws and 3 losses; 12 goals conceded (Ligue 1's best defence) and 22 goals scored. Away from home, Ramé and co. Have four wins (Marseille 2-0, Metz 1-0, Nice 1-0 and Monaco 1-0), 6 draws (Strasbourg 0-0, Rennes 2-2, ASSE 1-1, Nancy 0-0, Lens and Toulouse 1-1), and two losses (Auxerre 1-0 and Le Mans 1-0; 10 goals scored and 7 conceded. In total, 14 times out of 24, 6 out of 12 away from home, Bordeaux have kept a cleansheet. 7 times, they have won 1-0…

Seven goals scored from outside the penalty box and 15 from inside; three headers; three free-kicks (Monaco, Toulouse et Troyes); two penalties; nine from crosses and one from a 1 free-kick. Three goals conceded from outside the penalty area; and nine from inside; one free-kick (Rennes); two from free-kicks and one from a corner.
Chamakh, Darcheville, Faubert and Fernando have each scored three goals; Smicer, Laslandes and Alonso 2; Cheyrou, Ducasse, Denilson and Francia 1. The Blues have conceded 75% of their goals in the first half. After the break they are almost invincible (three goals).

22 players have taken part in the 24 league matches. Mavuba is the only to player to have played in all 24 games; Darcheville and Ramé 23; Faubert, Laslandes and Jurietti 22; Smicer and Planus 21; Jemmali 20; Fernando, Denilson and Afanou 18… Portugal's Beto has just signed during the mercato; he scored twice on debut in the Coupe de France win over ESSS. As for Lilian Laslandes, he has scored 120 goals in L1 after his penalty against Lens. He is the most successful striker currently operating in France's top flight. He is not yet, however, in the top 20 scorers in the history of the league where Onnis (299 goals) and Lacombe (255) will remain for the foreseeable future.

50 yellow cards including six for Planus and Bruno Cheyrou; 5 for Jurieti, Jemmali, Denilson and Henrique; 3 for Fernando… 2 red cards (Darcheville and Fernando).

Finally, club president Jean-Louis Triaud hasn't seen his side win at the Stade Gerland since 1992-93 (3-2) and has had to content himself with four draws in the last 13 visits. Bordeaux have lost their last five matches away to Lyon, including a 5-1 defeat last season.