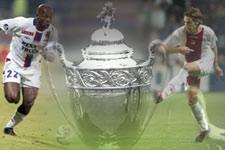 For the tenth time in a row in the Coupe de France (the French Cup), 'Les Lyonnais' are on the road. The last home match in the Cup now dates back to 2002 and a 2-0 loss to Châteauroux in the in last 32.
Not really aided by the draw, Juninho and co. are once again on the road, almost as soon as they returned from Monaco, where they didn't play due to the unsuitable condition of the pitch. And on the question of the pitch, the playing surface of the Stade Fraçois-Coty is not up to te standard normally expected from a Ligue 1 club. But Lyon will have to deal with it if they are to continue teir Cup run.

The Coupe loves mismatches, and there's certainly a difference between these two Ligue 1 clubs! From the annual budget to the standings (37 points seperate the two), and even the club facilities... To sum it up, this Wednesday it will be a battle between the aves and the have-nots. A have-not already hampered by an improbable battle against relegation, missing players through injury (Dzodic, Rocchi, Saïfi) and otherson international duty at the CAN with Guinea (Diawara, Jabi). Luckily the Red and White's Brazilian contingent are all available, led by their irreproachable captain Rodrigo. André Luiz has rediscovered te quality of his left-foot, Lucas scored a recent double against Marseille and Edson has the talent to upset any defence. There is also the Senegal player Moussa N'Diaye who will have to be watched after scoring Istres' goal at the Stade Gerland last season – a headed goal from a free-kick, just as he did in the 3-1 win over OM. The Maroccan Chafni has football in his blood and then there are battlers of French football, who know how to roll their sleeves up and do te the dirty work: Collin, Laurenti, Porato, Robin… But in the in the end, the 16-man squad is also a mix of regulars, youngsters and reserves: Mandrichi, Scarpelli, Trévisan, Becas, Baron, Moretti, Abdoun, Lesieur… will be alongside the likes of Rodrigo, Collin, Danjou... "They play good football, they're one of my favourite teams..." said Sidney Govou. A good Cup run could give the islanders a mental boost, as did the recent change in coach. Rolland Courbis stepped aside and José Pasqualetti is now sitting on the bench. The former Lyon player would love an upset with a second-string team.

At Ajaccio's Stade François-Coty Juninho's charges will be playing in the round-of-32, where the club has already fallen ten times in its history. It's simply "out of the question" that it will be 11 on February 1! Since Ajaccio returned to he top flight, Lyon are unbeaten in Corsica: 2 successes and a draw. After an enforced break since the match against Auxerre the team is desperate to get back in competition. One question: What would Gérard Houllier have done if the game in the principality had gone ahead last Sunday, knowing that second-placed Bordeaux are visiting the Stade Gerland this Sunday? Will he stick with the XI he had originally pencilled in for Monaco? It's possible considering the same 18 players left late on Tuesday afternoon for the Islan of Beauty: Diarra, Diatta, Cacapa, Berthod and Abidal are still out. "A Cup match is always special, and you have to be extra strong mentally to get through..." [IMG39996#R]Patrick Müller doesn't know if he'll be playing from the start in Corsica, but he knows the tune. And when you ask him what memories he has of the Coupe de France, he responds: "It's more like a bad memory. We were dumped out in the last 64 by Libourne. I hope to erase that memory completely." With the cancelling of Sunday's match the Swiss international has had a little more timeto reacquaint himself with his "new teammates". "But it's hard to 'work' on that. Cris? I saw him play in the Champions League. He's impressive, secure. He really has a calming influence on the team. He's quick and he's strong inthe challenge. That's good because they're not exactly my strong points."

Finally, it will be Lyon's 200th match in the Coupe de France and what better way to celebrate a nice round number like that than with a win?

The Squad: Coupet, Vercoutre - Réveillère, Clerc, Monsoreau, Müller, Cris - Pedretti, Clément, Juninho, Tiago - Wiltord, Carew, Ben Arfa, Benzema, Malouda, Govou, Fred

Ajaccio: Trévisan, Lucchini - Collin, Danjou, Baron, Moretti, Abdoun, Rodrigo - Robin, Becas, Mandrichi, Scarpelli, Antonio - Carlos, Lesieur, Chafni, Pierazzi.