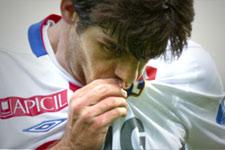 Born on January 30, 1975, in Recife, Juninho Pernambucano began his football career at Sport Recife before joining Vasco de Gama. He joined Lyon in July 2001 and on the 28th of that same month he made his Ligue 1 against Lens…
Since then, "Juni" has played 143 league games, picking up four national titles, three Champions Trophies and a Coupe de la Ligue along the way...Not to mention the Champions League quarter-finals, the Player of the Month awards, his selection in the World XI and his international caps...
To engrave his name on the history of the club was been his greatest wish! And certainly Lyon fans and the club will never forget his passage at the club.

Thankyou and happy birthday!!!