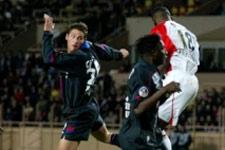 'Les Lyonnais' have rarely enjoyed success at the Stade Louis II, even if things have been better in recent years.
This will be the 42nd match between Monaco and Lyon this Sunday in the principality. The reord stands at: 26 wins for Monaco, 8 for OL and 7 draws. The first clash was in the 1954-55 season and the match ended in a scoreless draw. Lyon's first win came in the 1957-58 season when they won 2-1. OL then lost five times in a row – including two 4-1.

History:

Monaco's history is impresive. Champions of France 7 times, the first in 1960-61. The last cominng in 1999-2000. Five times winners of the Coupe de France, the last dating back to 1990-91. Winner of the Coupe de la Ligue in 2002-03. And twice European finalists in the Cup Winners' Cup in 1991-92 and the Champions League in 2003-04.

The last 5 meetings:

The last five meetings: 3 wins for Monaco and just one for Lyon in 2000-01, 2-0. Last season the two sides shared the points after Jérémy Clément equalised in stoppage time…

2000/01 14 0-2
2001/02 12 2-1
2002/03 26 2-0
2003/04 20 3-0
2004/05 26 1-1

Two numbers: 68 and 31

68 is the number of goals scored by Monaco and 31, the number of Lyon goals.

The Mercato:

Christian VIERI signed an 18-month deal, Marco DI VAIO has been loaned until June 2006 from Valencia, Manuel DOS SANTOS, Benfica's left back has joined until 2007 and Francesco GUIDOLIN replaced Didier Deschamps in September. Departures: T. MAOULIDA loaned to OM, Patrice EVRA signed a three-year deal with Manchester United and Mr ADEBAYOR has joined Arsenal.