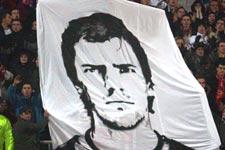 At the end of a shortened training session, due the snowfall, the international goalkeeper talked about the match against Monaco. The day before leaving for the principality he shared his thoughts on the ASM, Warmuz and 'the Italians.'
The Stade Louis II has not always been a happy hunting ground. Have are you approaching this new trip?
Even if I always prefer to look ahead and not always study the past, it's true that our recent performances in the principality haven't gone our way. Therefore, going and getting the win will be an extra achievement.
For some time now, we've finished above them in the standings, so they probably had an extra desire to beat us. From our point of view, perhaps we haven't always play our best over there.
We have to shake off hat bad habit because we need to get the points back that we dropped against Auxerre.

How do you see the AS Monaco?
They're a team that have seen a fair few changes during the mercato. So perhaps that haven't quite gelled yet. We hope they haven't perfected their understanding and that we can take advantage of that.
Against their several individuals, we'll impose our teamwork which is our great strength. It's this teamwork that has the beenthe foundation of our results. It's the teams spirit that allows new players to fit in so quickly. The performances of François Clerc, who is really impressive at the moment is a perfect example. The most important thing is that everybody works together to win a fifth title.

Monaco were the real movers during this mercato.
Exactly, they recruited Marco Di Vaio and Christian Vieri, two top-class players that deserve respect.
I've already played against Vieri when he was at Inter Milan. Athletically and physically, he's a monster. To get the win we're going to need to pay special attention to him and play our own game.

This match will alo be marked by the battle between two emblematic Ligue 1 goalkeepers. What do you think of Guillaume Warmuz?
He's an excellent 'keeper who has managed to stay at the top of his game. He seems to be getting better each season. As well as his goalkeeping ability, he also boasts a great experience and has played some really top games recently. He has a really positive effect on the whole Monaco team.