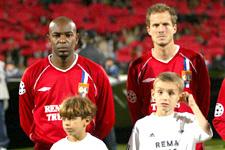 Patrick Müller has played several positions at OL; in his four seasons at Lyon he played 182 games in all competitions out of 206 disputed by OL. He played in different postes under Jacques Santini and Paul Le Guen.
He played in both two and three-man central defence as well as right-back and in the midfield. He played alongside several different teammates in defence, and is ready to meet some more as he returns to the club with whom he won the Coupe de la Ligue, three championships and 2 Champions Cups. He scored six goals (2 in the league, 1 in the UEFA Cup, 2 in the Coupe de la Ligue and 1 in the Coupe de France).

Right-back: 7 times
Midfield: 9 times
Müller-Laville: 15 times
Müller-Bak: 3 times
Müller-Edmilson: 84 times + 3 times in a three-man defence
Müller-Berthod: 4 times in a three-man defence
Müller-Bréchet: 4 times
Müller-Caçapa: 43 times
Müller-Chanelet: 1 time

In other words, six different partners.

The only remaining ones are Berthod and Caçapa, in the current squad. I twas in the 2002-03 season that the Swiss international played most regularly with Claudio Cacapa, 27 of the 43 partnerships; 2 times in 2003-04; 8 times in 2001-02 and 6 times in 2000-2001.