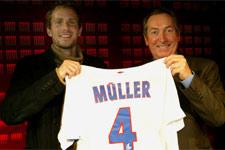 It was midday when Patrick Müller, Marino Faccioli (Jean-Michel Aulas' representative in Paris) and Gérard Houllier held a press conference officially announcing the arrival of the Swiss defender to OL for two and a half years for €3m.
Following an brief introduction from Marino Faccioli, coach Gérard Houllier explained the reasons for the choice to the large media contingent at the studios of OL Image:
"We said the the Mercato provided the opportunity to seize one or two players in terms of recruitment. Due to the number of injuries in the defence, that opportunity became a necessity. In terms of a coach, I had a lot of luck. Patrick was one of the priorities on our list. We wanted him for all hi qualities. It helps that he already knows the club and the way the club works, he can also play immediately in the Champions League. It proves that when you want to have goals, you also have to have the squad. Patrick fits into my style of play. The club recognised this. And finally, I will finish by saying that Patrick was a very popular member of the team before he returned. He was received with open arms."

With regards to the Mercarto, Gérard Houllieradmitted that OL was not chasing any other players for the moment. "For Zubar, it was the same operation, and the Caen directors raised the stakes very high." Finally, Gérard finished by saying that the Swiss defender would be in the squad at Monaco…

The coach then stepped aside for the new numéro 4. "I'm very happy to be back. It happened very quickly, and it's an honour for me to have OL wanting me like that. I haven't forgotten anything of my time here and it was impossible to let this chance slip by. I thank the club for having sealed the deal successfully."

Is this return a challenge?
"It's a huge challenge. Since I left, OL has gotten even bigger. It's been great to see all the old faces and meet the new. I've always followed the club's results since I left."

[IMG39996#R]What have you learned in Spain and Switzeland?
"Spain was a very positive experience, even if I didn't play so much. There were several factors that had o be taken into account: a new language; a new league; the birth of my daughter. All that played a part in my adaptaion and then Mallorca changed coach three times. When I left OL I already had some contact from Basel and I had the chance to win the Swiss league and also play in Europe. It was important for me to play in regards to the national team."

A word on returning to Gerland?
"I can't wait to rediscover this stadium and the supporters, such a great atmosphere. Lyon is a football city and all footballers dream of playing in such a place."

Did you ever think about returning to France?
"It wasn't obvious. To return to France, but not with OL didn't really make any sense to me."

Have you followed Lyon this season?
"Of course and the only word for it is impressive! What consistency. It's the mark of a great team. Everybody is talking about OL.

Competition?
"It's obviously there, now and when everybody will be back. Competition for places.. I've been there before in every club I've played for. It's important in football: it makes you improve. I repeat, this will be the biggest challenge of my career."

Willy ou be spying on France for the World Cup?
"No. All the France players are already known. Our coach doesn't need my advice. In Switzerland, we're just happy to be at he World Cup and we hope to reverse the recent trend against France."

Patrick Müller was born on December 17, 1976 in Geneva ; h has earned 63 caps (3 goals). He played 84 games with Servette de Genève (4 goals) and three European matches. He played 36 games for Grashopper Zurich (1 goal) and two European matches. He played 121 L1 games with OL for two goals (Bordeaux and Strasbourg); he also played 37 European ties (1 goal against Slovan Liberec). He scored two goals in the Coupe de la Ligue (Monaco, in the final and Sochaux) and one goal in the Coupe de France against Caen. After OL, he played six games with Mallorca, and 28 league games with FC Basel and 7 in the UEFA Cup.