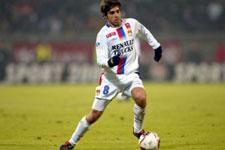 Having retold some of his best memories and his love for OL in
"Arrêt Sur Images"
, Juninho talks about the draw against Auxerre and the upcoming games...
Juninho, how did you see the match against Auxerre?
We played a good game but the over-riding feeling is that we dropped two points in the final seconds. Our first half was really excellent and we took the game to them. In the second half we continued to attack because we're a team that always tries to score. The Auxerre equaliser came from our always trying to get foward and we found ourselves with five against three in attack in the final seconds of the game. That will teach us a lesson and to lose points like that could actually help us for the end of the season.
You also have to congratulate Auxerrewho are one of the best teams in the league and they are very skilful.

What do you think of the Monaco side?
They're a team that often cause us problems. I don't remember winning at the Stade Louis II since I arrived at OL. They're probably the team that's been fighting with us most at the top of the table. They also have plenty of players that are used to performing in the Champions League and just because their 2005-06 season is proving a little tougher, I don't doubt they'll be very motivated for this game.
The fact that we've had a whol week to prepare this game will certainly help.

Are you worried by the number of injuries that have struck OL?
That's football. To play in several competitions at once without certain first-choice players is what's demanded of the big clubs. I have total confidence in the team because the absence of some has allowed others to show their quality – like François Clerc. He's a player that I really like and during Anthony Réveillère's injury he's played really well.

Lots of players are being linked to OL. What do you think about that?
The press is talking about Patrick Müller, Sébastien Squillaci , Michael Sylvestre and Vincent Kompany. They are all very good players.
If 'Pat?? comes, then we will welcome him with open arms. He knows the club perfectly and was champion and captain with OL and still counts a lot of friends in this squad. He is a real professional and has a great spirit and defensive qualities.
As for Squillaci, he is one of the best defenders in the French league alongside Cris.