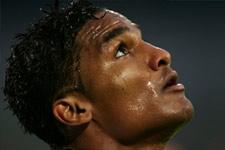 Guy Roux is no longer on the bench at Auxerre, but the Burgundy club has not changed. They remain one of the best teams in Ligue 1 and Lyon supporters hope the AJA hasn't changed as well... but for other reasons.
Indeed, Auxerre hasn't caused the quadruple champions too many problems in their last ten trips to Gerland, conceding eight defeats and registering just two draws. 'Les Olympiens' have 'a soft spot' for their guests and have taken great pleasure in crushing them on home soil in recent years. They've even done it twice this season: a win in the Champions Cup and a league victory, playing very well on each occasion.

However the past cannot be translated into another three points. If a fifth title in a row seems inevitable for the teammates of the unlucky Claudio Cacapa, out for two months, the teammates of Lachuer – 15 points adrift – are eyeing a European qualification... possibly the Champions League. They are involved in a fierce battle for that right, with just seven points separating second-placed Bordeaux from Rennes, in tenth. Currently lying third Auxerre are obviously looking to upset the champions on home soil. Motivated by the presence of four former Lyon faces, including the coaches Santini and Cuperly, returning to Gerland for the first time since they quit the club. 'Fifi' Violeau, as passionate as ever despite the passing of the years, and Peguy Luyindula will take great pleasure in putting one over their former colleagues. Otherwise, Auxerre have not ben particularly dominant on the road with 11 points taken from 11 trips and scoring just eight goals. They lost two players to the Mercato (Diaby and Benjani), two players are at the CAN (Kalabaane and Akalé) and an injured list which counts among its number the defenders Sagna, Kaboul and Bolf.

As for Lyon, the start to 2006 has been all-conquering: four matches, four wins, including qualification in the Coupe de France... 12 goals scored and just one conceded. They had a 12-point lead at the winter break and that has been increased to 14, just 16 matches from the end. Unfortunately, the world isn't perfect. The irreproachable captain Claudio Cacapa has a torn hamstring an dis out for several weeks. Gérard Houllier has seen his defence decimated for the visit of Auxerre: Réveillère, Abidal and Diatta are still missing. While studying possible reinforcements before the end of the Mercato, the coach has restated his confidence in the current squad. "Yes, I have complete confidence in the team that will play on Sunday. Sylvain Monsoreau was signed to play in the middle, he's already played centre-back with Cris and his matches at full-back will serve him well." The former Sochaux player has played three times in the middle in 19 games since joining OL. If we take into account the Peace Cup, he has played twice with Cris (Seongnam and Bordeaux). As for the entire defence, it will be a first time. Clerc has proved himself in the last three games; Berthod is always dependable; as for Cris, there's no need to say anything about his top-rate performances. And behind those four, there is Coupet, another 'monstre.'

For the rest of his squad, the Lyon coach is embarrassed for choice, choice that is so often based on freshness. This 'freshness', should be there after an entire week of training. There are options in midfield… options in attack with seven of the 18-man squad of an offensive disposition. There's the return of Florent Malouda who has only played 20 minutes of football since the visit of PSG on December 3. "He can't wait to play again… he's back to his best..." The Guyane-born player has echoed his coach's words: "I'm back!" As for Juninho, he meets Cool again, his favourite goalkeeper in Ligue 1. Can the Brazilian rediscover the route to goal against his "friend" that he has already beaten six times? It would be good for him and Lyon, even if he attaches little importance to personal glory.

Auxerre, therefore, before Monaco, Bordeaux and Lens in the league. In other words, opponents of European pedigree. It will be a big test before the two-legged confrontation against PSV Eindhoven.