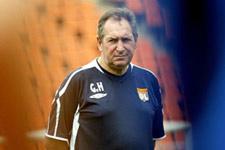 With the latest injury to Claudio Caçapa and the unavailability of Réveillère, Abidal and Diatta, Gérard Houllier had a limited choice of players for the visit of Auxerre. He has named an 18-man squad, including the return of Florent Malouda.
Squad:
Ben Arfa, Benzema, Berthod, Carew, Clément, Clerc, Coupet, Cris, Diarra, Fred, Govou, Juninho, Malouda, Monsoreau, Pedretti, Tiago, Vercoutre and Wiltord

Gérard, what can you tell us about the defence with so many absentees?
Honestly, I've got a lot of confidence in it. This confidence, for example, I have in Sylvain Monsoreau. He has all the international qualities to play in the middle: that's what we bought him for. The fact that he's been at full-back recently will even help him. Playing at full-back means you do more work, tactically as well. Sylvain has also already played in the middle with Cris, in Korea and against Bordeaux. He's not making his debut, he has experience.

A word on Claudio's injury at it's consequences?
Well, it's hard on the player. I've come to terms with being without him for two months. Apart from that, I can't tell you much more, even if you think we'll hve to find a slution. I'm preparing the match against Auxerre and I don't want to think about anything else. If we do decide to bring someone in, one thing is sure: he'll be a good guy in terms of team spirit and he'll also bring quality to the team.

Auxerre?
I've been pleasantly surprised by this team's consistency. They're well balanced, it has no real weaknesses and they play well together. Their results are no surprise to me, for example, they took six points from Monaco. I'm putting this match in perspective of the three league matches coming up, and the Coupe de France clash against Ajaccio. It's a good way to prepare for the rest of the championship. The four teams that we'll meet from the league all have different qualities but they are strong, including PSG. We knew that these matches would be important. As for Auxerre, they'll be motivated because there are some former Lyon people there. Jacques Santini? He's an old friend, and will remain so, after the game.

What's the line-up for Sunday?
I'm not going to tell you (laughs) If I say Coupet, Clerc Cris, Monsoreau, Berthod and Diarra will play. After that... Malouda? He's ready, he's back. I would also say that there are no automatic starters in my mind. I'm lucky to have such a good team! Freshness is always an important factor in my choices.

Finally, who will replace Claudio as captain?
That's a good question. You asked me that to see who would be starting (laughs again) I have five players who can wear the captain's armband: Coupet, Cacapa, Juninho, Govou and Wiltord. You'll see. Honestly, I have picked my definitie line-up.