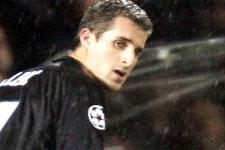 In the absence of Lamine Diatta and Anthony Réveillère, François Clerc is currently first choice at right-back. And it's with the qualities he displayed while on loan at Toulouse last season.
Hailing from Bresse, François Clerc is a happy man. "Completely. It's great to be playing all the time. It's going well for the team and for me. If someone had told a few months ago I'd be playing so much football I wouldn't have believed them, even if somewhere in my head I dreamed about it." Rennes in Brittany, nantes in the Coupe de la Ligue, Marseille, Grenoble and Nancy – five starts , plus seven minutes as Réveillère's replacement against Rosenborg. Each time he's done the job. But does he have a favourite match so far ? "I'd say Marseille, because it was a big game with Ribéry opposite me. It's the game where I felt my best. My teammates helped my and also gave me a lot of the ball becasue I had a fair bit of space. I also enjoyed Nancy, but that was a different type of match. We had to fight so hard. I didn't have as much opportunity to get forward even if my only run in the second half led to the corner for Fred's goal."

By playing regularly, people are obviously getting to know the defender better. "By playing you get more experience. Consistency? I think along with my speed, it's one of my strengths. In playing these three games in a week, I probably learned more than in seven with Toulouse. I don't forget a thing from training. I'm improving my tactics, my positioning, technically with the ball, finding space. When you play for OL you only play to win, and you play alongside great players. If you make the right call, you get the ball... You have to admit it's easy when it's like that."

To have tasted the heights now, will it not be hard to let it all go ? "I'm preparing mysel tohead back to the reserves or onto the bench. I know that's the rules of the game. For the moment I'm not thinking about it. If the coach wants me for Auxerre I'll be ready and happy to be there. Auxerre? They're a good team. Often they are outplayed, but they are alway dangerous and somehow win. It's a very good team with quality players. I've never played against Auxerre. At Toulouse last season I stayed on the bench."

François Clerc is obviously wearing a big smile over this part of the season, so there's no need to bring up the question of his future, and his contract which expires next June. Now, however, he takes part in our predictions game for round 23.

Ajaccio – OM: Marseille to win, despite their defeat at Gerland, they're still a good team. Ajaccio are not in top form

Bordeaux – Strasbourg: I'll go for a surprise draw. Bordeaux lost in the cup without looking good and Strasbourg may have turned it around.

Metz – Nantes: Victory for Nantes. It's going to be tough for Metz now.

Nice – PSG: A tough game when you know the two teams... a draw.

Rennes – Nancy: I'll say Rennes, even if Nancy is a good team, they're less good on the road.

Sochaux – ASSE: A tight game: draw.

Toulouse – Lille: Draw, with a goal from my mate Bergougnoux.

Troyes – Le Mans: I don't really know... so a draw.

Lens – Monaco: It would suit us if they have a draw.

OL – Auxerre: Lyon… obviously.