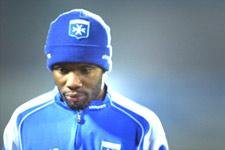 The Lyon players might be surprised to find on Sunday that the Auxerre team-sheet bares little resemblance to the one when they won 2-0 (Juninho and Diarra) back on August 28, 2005 at the Stade l'Abbe-Deschamps.
If Fabien Cool, who will break the record for the number of consecutive Ligue 1 matches (273), is still in goal, their will be a lot of changes throughout the rest of the Auxerre team.
A good number of the Auxerre team have actually quit the club for various reasons.
Benjani and Abou Diaby have headed to England (Portsmouth and Arsenal, respectively). Omar Kaalabane and Kanga Akalé have gone to Egypt for the CAN (Guinea and the Ivory Coast).
To make matters worse for Jacques Santini whose club has not profited from the transfer window to bring in any new faces, the treatment room is full. Central defender Younes Kaboul is still out of action, and he is joined by fellow defender Bakari Sagna. Baptiste Martin, has strained his left thigh and is now doubtful for Sunday's match. The is also a cloud over former Lyon forward Peguy Luyindula. According to the Czech René Bolf, he is already out of the clash. The defenders recurrent back ain could rule him out for the second half of the season.