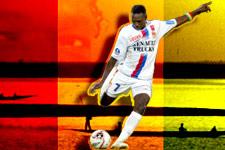 At the end of training, Patrice Bergues spoke about the morning session, the victory over Nancy and also gave us impressions of Olympique Lyonnais' next opponents: Jacques Santini's AJ Auxerre.
Training
We did some endurance work this morning followed by a skills session finished it off with a little game in front of goal. It was a pretty relaxed atmosphere this morning. We're serious when we have to be but we can also have fun when the excercises allow it. This afternoon's session will be based more on tactics and ball circulation.
We've got a whole week to work now, but to tell the trust we'd prefer to be playing in the Coupe de la Ligue. Unfortunately we didn't play well at Nantes and this whole week's training is looking on the bright side.

Nancy
It was a match of two halves. The first, where Nancy imposed their direct style of play with which we weren't able to deal with and play our usual game. The game plan just didn't let us. Then we had the luck to score quite quickly in the second half. That meant Nancy had to change and it also freed up some more espace for us. Like I said, it was a match of two halves and we did it well.

Auxerre
We have four very important games coming up that look more like European fixtures. Auxerre, Bordeaux, Monaco, Lens… There are a few more games we have to deal with well in order to enjoy our end of season witloof to much stress. A.J.A? At the start of the season, Auxerre had a lot of trouble, but as the matches have passed, they've become far more stable and hard to play against. This team is a far cry from the one we played against in August. At the start of the season they had a lot of new players, a new coach… they needed to rebuild and you dont just change 30 years of habits under Guy Roux in the flash of an eye. Now the players are walking to Santini's beat. They defend well, remain organised an dont give tir opponents much space. Up front they're very strong with Luyindula and Kalenberg. The midfield is also hard-working and experienced withVioleau, Berson and Cheyrou, a talented bunch… They dont rack up big scores but they dont concede many either, except for the 7-0 at the start and they've well and trully corrected that.