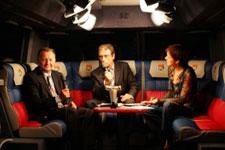 Reactions to Nancy – OL
Pablo Correa: Lyon are a talented side with a lot of control. They never panic and at a moment when we weren't well organised they turned it into goals. It's not frustrating to lose to such a quality outfit.

Claudio Caçapa: It was a tough game. We found it difficult to play football and Nancy are a very good team, well-organised and against whom we managed to secure another three important points.
I scored on one of the few times I got forward. I have to thank Karim (Benzema) for his brilliant pass.

Jean-Michel Aulas: It was a quality match, throughout which Nancy caused us a lot of problems. In the first half we had trouble finding our marks and imposing our play. In the second half our individual qualities were the difference.
This victory is a lot more important than it seems. It was worth a lot more than three points because there aren't a lot of teams that will come and win here.
Claudio showed he can counterattack perfectly and he unlocked the match after some great work from Benzema.
Our start to 2006 is perfect, just as it finished 2005, excepting the defeat to Lille.
The group is rotating well and always pushing itself further. This constant self-analysis is crucial if we are to continue at the same level. The championship isn't over, even if we are well on our way, but we've got a lot of tough games coming up and we'll know more when they're over.

Sylvain Monsoreau: For their penalty claims, there was no foul. He dived when he got into the penalty area and the referee saw it all perfectly.
The conditions made it very tough and the pitch was frozen.
Tonight we were determined, above all to stay solid at the back, knowing that eventually our chance to score would come. And that's what happened. It was a good win against a good Nancy side.

Check out all the reactions in OLWEB PREMIUM.