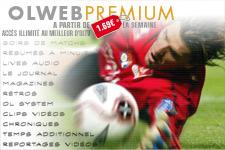 The morning of Friday, January 13, saw the start of subscriptions for OLWEB PREMIUM.
All the team at OLWEB.fr is delighted to be able to bring you this great new offer.
The 200,000 videos that were watched during our discovery month have confirmed the wisdom of our decision to upgrade our internet site and incorporate a new PREMIUM section.
Having ironed out all the little teething problems we would like to offer our apologies for any inconveniences you may have encountered.
And rest assured that all our efforts are geared towards feeding your passion for Olympique Lyonnais. We hope that you will quickly become a member of the
OLWEB PREMIUM community.

There are several different subscriptions available:
- Weekly Subscription: 1.69 € (1.35 + 0.34 euros per minute, based on a one minute call)
- Monthly Subscription: 5 €
- Annual Subscription: 50 € (instead of 60 €)
- Annual Subscription + OL Club Card: 70 € (instead of 90 €)



More information