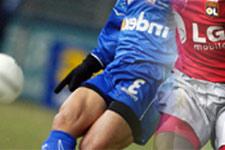 Nobody would understand it if the giant Lyon was to come unstuck this Sunday against Grenoble, a Ligue 2 outfit. So will 2006 finally be the crowning year for King Lyon?
It may sound presumptuous to claim that we are here to win the Coupe de France (French Cup), a Cup competition of sudden death matches and all the incertitude and surprise that goes with it, but it is also straight to the point! OL and the Old Lady, version 2006, have a rendezvous this Sunday which shouldn't end until the Presidential Stand in the Stade de France on 20 May. The president, the coach, the players have made it one of the goals of the season. "It's going to be different to the last few years..." Gérard Houllier said without a hint of concern. He knows that he leads by example; his team is dominating Ligue 1 and if they play with the same talent, desire and ruthless efficiency, there's no reason why the prediction won't come true. All that remains is to with stand the growing number of sides thaqt want to add the scalp of OL to their belts. The hope of knocking off Lyon is a huge incentive.

To start this season's competition, Les Lyonnais are travelling a mere 100km to the Stade Lesdiguières de Grenoble. It's here that the GF38 of coach Thierry Goudet dreams if writing their names into history. A regular of Ligue 2, hampered by no stadium and poor results, Grenoble, now Japanese controled through their sponsor Index, is also dreaming of L1. But in the meantime there's Sunday's match, perhaps the biggest in the club's history, to play ... and t win. "We need to enjoy ourselves above all and give everything we have in order to believe in an upset as long as possible." Coach Thierry Goudet knows that, on paper, there's no contest. But Old Lady Cup doesn't play by the same rules as the league. In recent years Libourne, Chateauroux and Clermont have all claimed the scalp of the French champions... So why not Grenoble?

In the middle of the L2 table, neither fighting for the leading places, nor entirely free of the relegation zone, Grenoble's biggest problem has been scoring goals (18 in 19 games). At home, however, they have shown a certain defensive solidity (conceding just 5 goals in 9 games). Without any real big names and without Kacemi and Bayihia it is more or less a young team. Akrour, Kermorgant, Belghazouani, Connen, Pelé, Kamissoko, even the Brazilian Vivian and the captain François are not chumps, but they do seem light years from Sunday's opponents. And it's true.

"We have to be focused to start this competition well. I know OL won this competition a long time ago and have not had much luck since. But this is a derby match against a team that will be desperate to beat us and we, as always, will have a lot of respect for our adversary. We haven't forgotten our defeat to Clermont last season..." Don't count on Juninho to talk about a stroll in the park! Lyon began 2006 with a thrashing of Strasbourg, putting things back in place after the loss to Lille. Leading Ligue 1 by a country mile they can look at the Cup with a fresh approach. And even if Gérard Houllier rested several key players for the Coupe de la Ligue (League Cup) match against Nantes, no-one would bet against him naming his strongest 16, with the return of Guyana's Florent Malouda. Obviously Réveillère and Abidal are missing through injury ; Govou is suffering from an upset stomach; and Diatta has left for the CAN, but François Clerc has shown he is more than capable of occupyingthe right-back post. One question. Keeping in mind the visit of Marseille 72hrs later and then the trip to Nancy, will Gérard Houllier be tempted to change around the starting XI in an attempt to ease the workload?

And even if records are set to be broken, we do have one little request: no penalty shootout. In their last ten penalty shootouts (since 1991-92) OL has lost nine. Only one victory and that came in July 2004 in the Champions Cup against PSG. The squad may have been practising penalties this week, but it would be better not to tempt fate all the same, because there are six games that OL must win for a fourth Cup a cup that neother the president Jean-Michel Aulas, coach Gérard Houllier, nor any of the players have ever won.

The squad:
(17 players) Ben Arfa, Benzema, Cacapa, Carew, Clément, Clerc, Coupet, Cris, Diarra, Fred, Juninho, Malouda, Monsoreau, Pedretti, Tiago, Vercoutre, Wiltord.