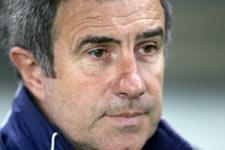 Reactions to Strasbourg - OL
Jacky Duguépéroux: We saw this evening that the 33 points separating the two sides before the match were well and truly justified. We made too many mistakes. We haven't learnt from the past. Tonight we played a side on top of it's game. We at our rightful place in the standings... them too.

Benoit Pedretti: Like all games after a break, it was tough. It was a big win on the scoreboard, but we had the good fortune to score early on and then we were able to play in behind them
Sylvain Wiltord's second goal was extraordinary. Today he was brilliant like usual, but he also scored.

Cris: It's a great win. It was crucial to start the new year in style. Today we managed to score four but we didn't concede any either. The first half was a little tougher because the Strasbourg defence played well.

Claudio Caçapa: The coach told us before the match that there were only 19 games left and we have to win as many as possible. 4-0 is a good score, but especially good considering the difficult weather conditions. To be captain of a team like this is just a great honour and a dream.

Jérémy Berthod: It's my second goal in official competition but my first in the league, so I'm doubly happy with the win.
We knew that our oppnents defended very high up the pitch and played off side so I cashed in on that with Cris' through ball. It's true that I lost a bit of time trying to get it on my left and that I had Carew to my right, but when I was upp against Nico Puydebois, I knew I wasn't allowed to miss it. They can't tease me anymore - I've scored in Ligue 1.

Gérard Houllier: There is always a little doubt in the first match back. Especially tonight because of the cold. It was a great match to watch. We'd done our homework and seen that they played very high. I still noticed a few things to work on, we need to be more efficient up front and stronger at the back.
The players have decided to forget about the first half of the season in order to win the second.