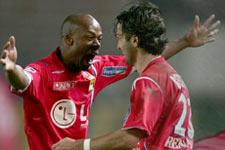 A story of opposites. The hosts (11 pts) were rock bottom of the standings, searching for points and the safety zone, which started with Troyes and Sochaux on 21 pts. Les Lyonnais were still top and had a 12-point lead over Lens, Bordeaux and Auxerre...
Les Gones didn't waste any time getting on the scoreboard through a set piece. Juninho launched the ball into the area and Nino was there to meet it and start the new year in perfect fashion (6' ; 0-1). Unsettled by conceding the early goal, the Blue and Whites wasted everything in front of goal, such as Pagis' shot over the bar and Farnerud's effort which went wide (17').
The locals went further behind to another moment of slack marking when Jérémy Berthod raced through unnoticed by the defence and fired his left-foot shot passed his former teammate Puydebois to score his first goal in Ligue 1. Jeremy ran to celbrate his goal with birthday boy Joel Bats who turned 49 today (42' ; 0-2). He kept on smiling all the way to half time...

After the break Farnerud again went wide with a header and Pagis was unable to beat Coupet (47'). Nino then made the game safe with a great solo goal (56' ; 0-3) before beating getting the better of Devaux and then beating Puydebois for his hat-trick (74' ; 0-4), and OL's fourth.

The Alsace outfit could find little in response. Despite 10 shots, Strasbourg's chances were either too slow or off-target, in stark contrast to the ruthless efficiency of 'Les Gones', illustrated by Nino's three goals from five shots. As Jacky Duguépéroux said, the 33 points separating the two sides before the game were well and truly justified!