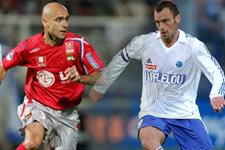 After a short break, it back into the fast lane with six games in January; including four in 11 days to get started with three away matches , counting the Coupe de France clash at Grenoble... The Lyonnais need to bounce back from their disappointing end to last year.
Indeed, there's no question of taking it easy, especially as the side is coming off a defeat, the first and only defeat of the season to date and OL has only taken one point from their last two league games. History has shown that the Ligue 1 leaders led by Cacapa are favourites to return to winning ways at a ground where they have won the last games, scoring nine goals and not conceding a single one.

Direction Alsace to take on an opponent already at the doors to Ligue 2. The Racing Club de Strasbourg is a side low on points and success with zero goals scored at home in 499 minutes of football and still looking for their first home win. By contrast, the club is performing well in Europe and has already qualified for the last 32 of the UEFA Cup and are still undefeated. The Alsacians don't have any more options is they want to survive the drop. "Every match for us is like a Champions League match now. We have to start by not losing any more at home. We're up against OL, but I think it's probably the best time to be playing them..." said Jean-Christophe Devaux, a former OL player, who thinks an upset is possible. Guillaume Lacour, another OL ex, is pointing at the maths: "It's not mathematically over for us." Indeed, where there's life, there's hope, even if, with only 11 points, they are already 10 points from the safety zone.

The quadruple champions of France have no such problem... hardly a problem at all, in fact in the league. Obviously the defeat to Les Dogues made a dent in the otherwise perfect record, but so what? Les Lyonnais are still top with a 12 point lead and it's difficult to see them overhauled in the 19 remaining matches. OL wants a fifth title too much. They also know how to fight for a match when they have to. They boast the best squad in the land, with the most experience. They haven't lost two matches in a row since Nantres 1-0 OL and OL 1-3 Monaco back in 2002. As Jérémy Berthod said: "A great team doesn't lose two in a row." But we would like to see OL stop going behind in matches: seven times in the league already and ten times in total! We'd also like OL to stop conceding goals from set pieces: six in the league (the penalty for Ajaccio is not incuded) and eight goals overall out of 19!

For the trip to the Meinau, Gérard Houllier is still without Eric Abidal, but also Anthony Réveillère and Florent Malouda. The starting XI shouldn't hold too many surprises, even if there are some doubts, such as who will start at left back? Monsoreau or Berthod? Who will start up front? The rest, however, seems pretty straight forward, even if the coach said Benoît Pedretti has been improving out of sight.